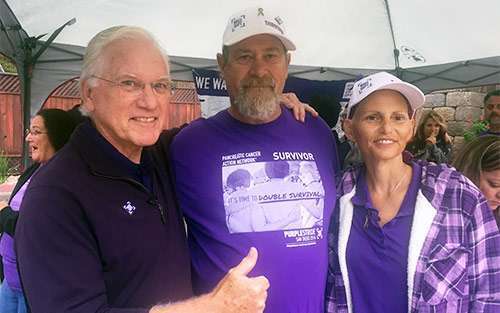 Stu Rickerson was at the top of his profession in the pharmaceutical and medical device industries when he was diagnosed with pancreatic cancer in January 2005. His career is decorated with a long list of notable accomplishments such as serving on the Board of Directors of mini-conglomerate Keene Corporation, consulting with more than two dozen Fortune 500 companies, being featured in Forbes and Business Week as well as cofounding two endowment boards associated with Princeton University, where both he and his spouse, Nancy, graduated.
Though he was forced into early retirement from the day-to-day management of complex international health care companies, Stu refused to step away from the fight against pancreatic cancer.
Recently, he was interviewed with stage IV pancreatic cancer patient Didi Dumas on KUSI-TV in San Diego to promote PurpleStride San Diego, the walk to end pancreatic cancer. With Stu by her side, Didi urged the San Diego community to support PanCAN's urgent mission to save lives and register for the upcoming community fundraiser.
Stu's commitment to the Pancreatic Cancer Action Network is commendable. As a member of PanCAN's Board of Directors, Stu's focus is to increase research funding for pancreatic cancer and to improve early detection methods, treatment options and the long-term care of patients fighting the nation's toughest cancer. In order to do this, Stu will be participating in the 10th anniversary of National Pancreatic Cancer Advocacy Day June 19-20, where he will urge Congress to make cancer research a national priority.
To learn more about how you can participate in Advocacy Day from home, please visit pancan.org/callcongress. To learn more about our organization, please visit pancan.org.