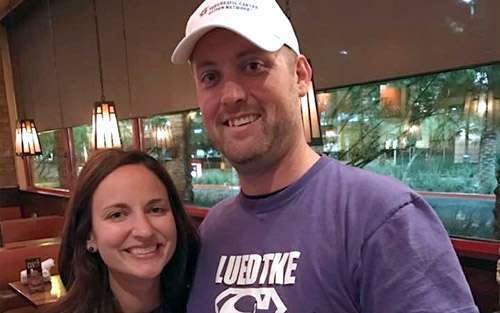 The following blog was written by Jon Luedtke, a three-year pancreatic cancer survivor and the third generation in his family to be affected by the disease. He is an active member of the Las Vegas Affiliate and uses PurpleStride as a platform to Wage Hope and celebrate his health.   
My family has long battled pancreatic cancer. My grandmother lost her battle with pancreatic cancer before I was born. My mother passed away at the age of 49.
It turns out that my family has a genetic condition called MEN 1 that predisposes us to neuroendocrine tumors. So I knew that the possibility of battling cancer sometime in my life was very possible. Screening bloodwork and scans became a routine.
I was diligent, but diligence doesn't stop cancer.
I will never forget that phone call three years ago, at age 32, that turned my life upside down. I was sitting next to my pregnant wife and playing with my 2-year-old son when the phone rang. It was my gastroenterologist following up on a routine CT scan that had taken place two days earlier. My heart sank as he told me that there was a mass on my pancreas.
The next three months were spent with doctors and surgeons, and undergoing scans, scopes and biopsies in preparation for surgery. At the same time, we were preparing for my baby daughter's arrival, who was born just seven weeks before my surgery.
In May 2014, I had a distal pancreatectomy to remove my primary tumor. Pathology showed it was indeed a slow-growing neuroendocrine tumor, which had spread to one lymph node in the area. However, the surgeons were confident that they could remove the primary tumor.
The pain was intense, and the emotional and physical stress at times was more than overwhelming. It was an uphill battle, but one day at a time brought me closer to being myself again.
Unfortunately, I developed complications a month following surgery, only to be hospitalized with a pancreatic leak and fistula. Four months later, my drain was finally able to be removed and I was back on the road to healing. Three months later, I was back to work full-time. Today, I am doing wonderfully. My latest MRI shows no areas of concern.
I am so fortunate to have a team of doctors who worked so hard to provide me with the best care. I am blessed to be surrounded by great family and friends to care for me and lift my spirits. And I am grateful for the Pancreatic Cancer Action Network and my PurpleStride family who continue to give me hope.
Each day I am grateful for my health, for negative test results and for another day to live this life. I know my battle is not over. I know the odds, but I will fight hard and never give up. I am proud to say that I am a 35-year-old three-year neuroendocrine pancreatic cancer survivor!