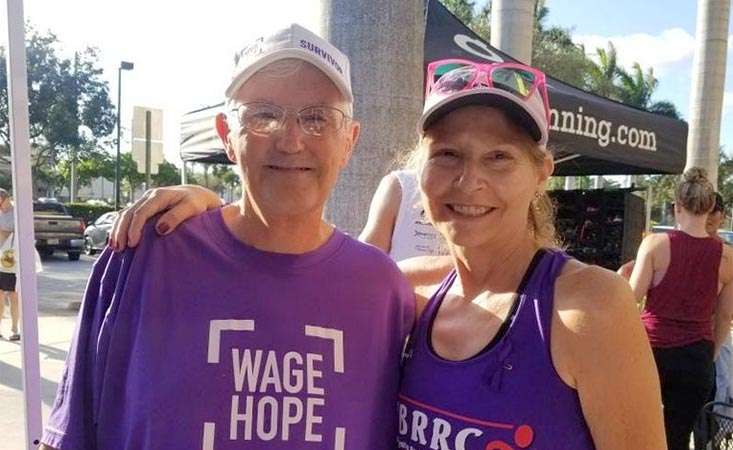 To celebrate his 20 years of survival in 2020, Mike Fitzpatrick is going big on World Pancreatic Cancer Day (WPCD).  On Nov. 19, he'll walk an 'Extreme 5K' to honor all affected by pancreatic cancer. He'll begin at 7 a.m. in Boca Raton, FL and finish up 26-miles later at the Hard Rock Casino and Hotel in Hollywood, FL.
When Fitzpatrick was first diagnosed with pancreatic cancer in 2000, there wasn't much in the way of information or support. So little was available, it had taken him more than 10 years to receive a correct diagnosis.
"Prior to being diagnosed, I was in the dark," said Fitzpatrick.  "My doctors could not determine what was wrong. During the mid-1980s, my body started to tell me something was wrong, but the doctors could not diagnose."
After a decade of being told to live with it, to take Zantac and even undergoing exploratory surgery, his doctors finally found the problem – by accident during a routine MRI. Fitzpatrick was diagnosed with a very rare syndrome, called Zollinger-Ellison, that causes pancreatic neuroendocrine tumors (PNET) called gastrinomas. Zollinger-Ellison syndrome is thought to affect around one out of every one million people, and PNETs account for about 7% of all pancreatic tumors.
"My doctor had never done this type of surgery, so he had to put together a "Dream Team," said Fitzpatrick.  The surgery took place over 13 hours, and following that, Fitzpatrick decided to take the challenge head on, fighting pancreatic cancer.
Fitzpatrick found the Pancreatic Cancer Action Network (PanCAN) through a fellow South Floridian and survivor, and the only other person he knew who had gone through a Whipple procedure. He read about tri-athlete Molli Serrano who had stayed active through treatment and surgery, even competing in the Ironman World Championship. Fitzpatrick joined her team at PanCAN's PurpleStride in Sunrise, FL in 2012, and the two found mutual inspiration. When Molli passed away in 2013, Fitzpatrick was determined to keep her legacy alive.
And he has done that every year, in so many ways. Fitzpatrick has spoken at PanCAN's PurpleStride, attended Advocacy Day and is an active member of the Broward-Palm Beach affiliate, volunteering year-round.
"Each year I try to do something out of the ordinary," said Fitzpatrick. "Twenty-four hour walks, 100-mile walks. I had even planned on walking to Washington DC for PanCAN's Advocacy Day this year!"
"I decided to start my 'Extreme 5'K on WPCD, as an event to celebrate the world," said Fitzpatrick. "I wanted to bring love, hope and inspiration to all who are suffering from this disease."
His walk will benefit Team World/ Fitz at PurpleStride Broward-Palm Beach, which was held on Nov. 15.
It's also his way of celebrating all the researchers, doctors, nurses and survivors, and all who are on the front lines fighting pancreatic cancer throughout the world.
If he were to encounter someone newly diagnosed today, his message would be one of unrelenting positivity.
"Stay calm, stay positive. We have teams of people who are working for you – supporting you, walking for you, praying for you," said Fitzpatrick. "Do not lose hope, stay strong.  And smile every day."