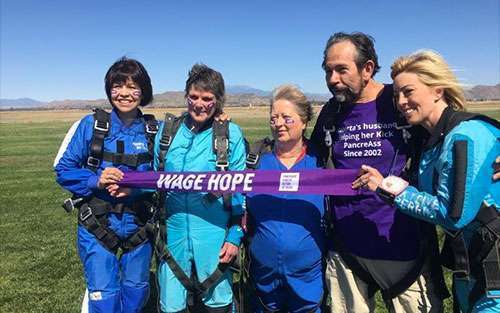 People magazine gets in on the action by covering the story!
Three Southern California pancreatic cancer survivors – Susie Lemieux, Lupe Romero and Roberta Luna – took a literal leap of faith to celebrate life this past Saturday. Refusing to let pancreatic cancer take away their thirst for joy and adventure, the trio went skydiving in Perris, Calif., and KCBS2 and People.com were there to capture the experience!
Lemieux lost her husband of 19 years to pancreatic cancer just five months before her own diagnosis in April of 2016. She had been her husband's caretaker for 11 months before he passed.
Romero celebrated her fifth year as a pancreatic cancer survivor this past February. Unfortunately, the celebration was cut short when just a few weeks later, she was informed that her pancreatic cancer had returned for the third time.
Luna, who is the Volunteer and Community Engagement Chair in the Orange County (Calif.) Affiliate of volunteers, lost her father, mother, grandmother and uncle to pancreatic cancer. Then in 2002, she learned she, too, had the disease. Just this month she celebrated her 15th year as a survivor!
Since pancreatic cancer is difficult and includes unexpected bumps along the way, the women say they rely on each other for hope and support. Even from thousands of feet in the air!
Take a look at KCBS2's coverage of their excursion here, and see photos and read more about this event from People.com here.
Stay tuned for more news updates as our inspiring supporters continue to take action on all kinds of levels!