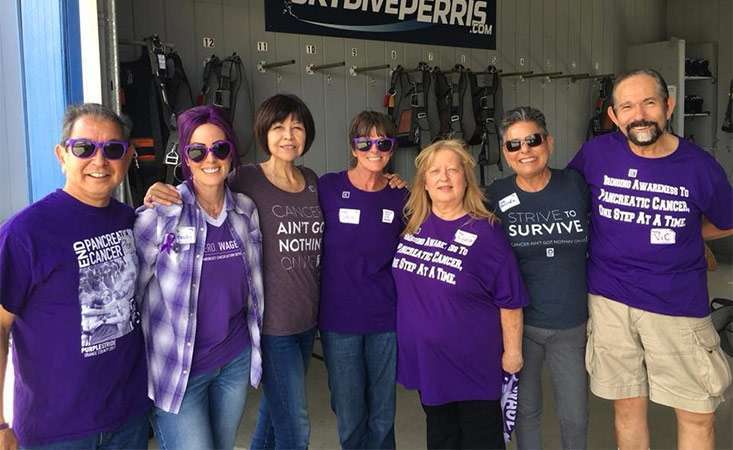 This past weekend, five Southern California pancreatic cancer survivors – Belinda Barnes, Susie Lemieux, Lupe Romero, Roberta Luna and Tom Arai – took a literal leap of faith to celebrate life. Refusing to let pancreatic cancer take away their enjoyment of life and adventure, the survivors went skydiving in Perris, Calif.
It was the fifth consecutive year a group of local survivors has met to skydive together.
Los Angeles TV news station Telemundo was on hand this year to capture the experience for a story that will air in May, and KCBS-TV showcased the action on its newscast.
Luna, the Volunteer & Community Engagement Chair in the Orange County (Calif.) Affiliate of volunteers, lost her father, mother, grandmother and uncle to pancreatic cancer. Then in 2002, she learned she also had the disease. Just this month she celebrated her 16th year as a survivor.
Romero celebrated her sixth year as a pancreatic cancer survivor this past February. After becoming a two-time survivor, she was informed that her pancreatic cancer had returned for the third time. She continues the fight with a smile on her face and optimism in her heart.
Lemieux lost her husband of 19 years to pancreatic cancer just five months before her own diagnosis in April 2016. She had been her husband's caretaker for 11 months before he passed.
Arai was diagnosed with metastatic pancreatic cancer in June 2015 and has been cancer-free for the last 18 months. He and Belinda Barnes were the two first-timers taking the plunge this year.
The group was supported by Natascha Martin, PanCAN employee and daughter of Lemieux, and Vic Luna, the husband of Roberta Luna. Both took to the sky with the pancreatic cancer survivors to show their support.
On the ground, over a dozen were in attendance to show their support to those who fearlessly fight the third leading cause of cancer-related death in the United States.
The survivors of the world's toughest cancer say they rely on each other for hope and support – even from thousands of feet in the air.
"I'm really excited to be here with my fellow survivors. They mean the world to me, and this community means the world to me," Romero said. "We're jumping in honor of those fighting and in memory of those who've lost their lives."
Take a look at KCBS2's coverage of the jump here.
PanCAN is the only organization with a nationwide grassroots army, inspiring over one million people to take action and accelerate progress in the fight to end pancreatic cancer. Demand Better for patients by
volunteering in your local community
.
Editor's note: Lupe Romero passed away in February 2019, but her legacy lives on.