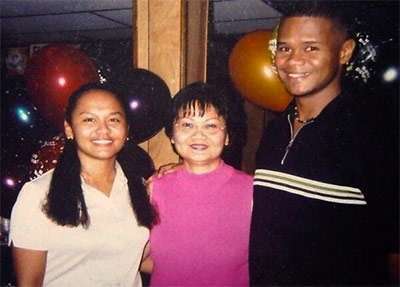 When Tanga Williams was younger, her mom, Remy, would take she and her brother, Sudario, to the fishing pier at Fort Walton Beach, Fla., during summer break. Remy grew up on a small island in the Philippines, where she loved to fish with her father.
"One of my best memories with her is spending all day fishing at the pier," Williams said. "And sometimes, we'd stay all night and watch the sun rise over the ocean.
Her mother was diagnosed with pancreatic cancer in 2002, one month before her 50th birthday. Treatment was not an option and she was given six months. That February, she celebrated her birthday with her family in hospice care at home. In June, Williams took a leave of absence from her job to help care for her.
"It was the most difficult experience, but at the same time, there were beautiful moments," Williams said. "My brother and I were able to share so much with my mom."
She died shortly thereafter.
Williams discovered the Pancreatic Cancer Action Network as she was doing research about the disease, right after her mom's diagnosis.  At the time, she knew nothing about pancreatic cancer and wanted to find out everything she could as quickly as she could.
Williams was devastated by the loss of her mom. It took her years to process her grief, but she slowly started taking action to pay tribute to her. She participated in PurpleStride Fort Lauderdale in 2011, in her mom's memory. She wrote a blog post about her experience – something she had been thinking about for a long time.
And this year, she wanted to make a bigger difference, so she's launching her own fundraiser on Wage Hope My Way. She plans to set up a Facebook page for her fundraiser, too, as well as donate 15 percent from her own business, which she just launched this year.
Williams has chosen to honor her mom with this fundraiser because she's shocked that pancreatic cancer is expected to become the second leading cause of cancer death around 2020.
"I don't want anyone to feel hopeless, like I did, during my mom's illness," she said.
Follow her Wage Hope My Way progress here.