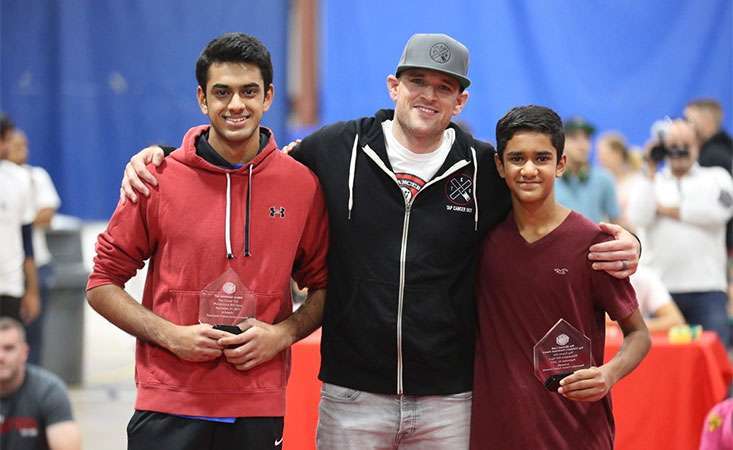 It starts with someone. For Jon Thomas, launching Tap Cancer Out – a nonprofit founded within the Brazilian Jiu-Jitsu community – began with his nephew Michael whom he lost to leukemia in 2006.  "I took inventory of what, if anything, I was doing to make the world a better place," says Thomas. "I didn't know what I could do, but I wanted to do something. It would take years, but eventually that 'something' was Tap Cancer Out."
Since 2012, Tap Cancer Out has raised awareness and funds for cancer-fighting organizations by empowering competitors taking part in their innovative tournaments to fundraise on their behalf. In 2016, the Pancreatic Cancer Action Network was chosen as the beneficiary for a two-year period. The first year, PanCAN received $210,000 and, in 2017, Tap Cancer Out funded the $300,000 Tap Cancer Out Translational Research Grant. The grant supports the work of Timothy Wang, MD, and his co-principal investigator Paul Oberstein, MD, exploring whether a specific therapy can impede the growth and spread of pancreatic cancer.
In choosing PanCAN, Thomas said, "PanCAN stood out for two reasons. First, their energy was palpable. Because we are a Brazilian Jiu-Jitsu (BJJ)-based nonprofit, we get some sideways looks. People don't understand the impact we're achieving." PanCAN, he said, was totally on board. "You could hear it in their voices. Second, their problem to solve was daunting, but clear. The BJJ community doesn't back down from a fight either, so we were excited to work with PanCAN."
Tap Cancer Out's final tournament for PanCAN is Nov. 18 in Danvers, Massachusetts, two days after World Pancreatic Cancer Day. The tournaments have shown tremendous growth, and Thomas says, "Our growth really comes down to how amazing our fundraisers are. Our network continues to expand and fundraisers come back each year with more passion, expertise and momentum."
How does Thomas Demand Better?  He starts with his own organization. "One of our keys to success has been our refusal to settle for 'good enough.' It's just not in our DNA. We don't try to host the best charity Brazilian Jiu-Jitsu tournament in the world. We want to host the best tournament in the world, period. We'll always demand better of ourselves."
And by demanding better of themselves, Tap Cancer Out demands better for pancreatic cancer patients and their families, moving us toward our goal of doubling survival by 2020.
Follow the progress of the tournament and find out more about Tap Cancer Out.