"Pancreatic cancer is the biggest, baddest guy in the room," says Tap Cancer Out Founder and CEO Jon Thomas. "So for a nonprofit powered by a passionate community of fighters, it was the obvious choice."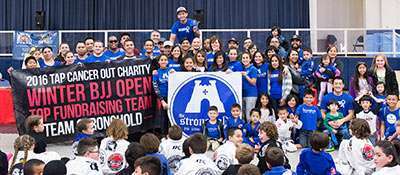 Tap Cancer Out is a Brazilian Jiu-Jitsu based 501(c)(3) nonprofit raising awareness and funds for cancer fighting organizations on behalf of the grappling community. Brazilian Jiu-Jitsu emphasizes the use of proper technique and leverage to defeat a significantly larger and stronger opponent. The same principal applies here, says Thomas.
The Pancreatic Cancer Action Network has been named the official beneficiary of the organization and the new partnership is launching in tandem with their 5th annual Tap Cancer Out Spring BJJ Open, in Stratford, Conn., on April 23. Over the last four years tournaments like this one have raised more than $325,000 for cancer-fighting causes.
"This is such an exciting opportunity -- to be able to bring awareness, as well as our message of hope, to a brand-new audience." said Donna Manross, Director of Strategic Partnerships for the Pancreatic Cancer Action Network.
In addition to the April 23 tournament, Tap Cancer Out holds annual events in San Diego, Calif., Boston, Mass. and plans to expand into an additional city this fall.
"The Tap Cancer Out community of competitors, fundraisers, and supporters never backs down from a fight," said Thomas. "And we're ready to help the Pancreatic Cancer Action Network double survival by 2020."