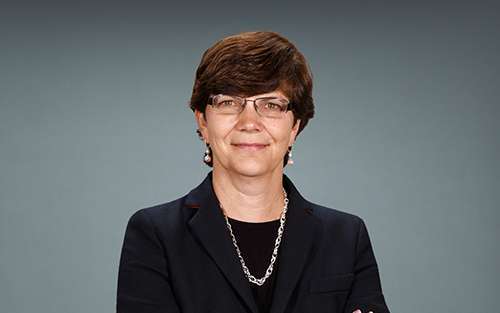 Editor's Note: Listen to our president/CEO Julie Fleshman, JD, MBA and chair of our SMAB, Diane Simeone, MD on The Oncology Show on Doctor Radio -- Sirius XM (Channel 110) this Friday, August 4 from 12:30 p.m. to 1 p.m. PST. They'll be discussing Precision Promise, adaptive clinical trial designs and more!
In a just published article, the journal Targeted Oncology features our newly appointed Scientific and Medical Advisory Board (SMAB) chair Diane M. Simeone, MD. Dr. Simeone, a renowned pancreatic cancer surgeon and researcher, is now director of the Pancreatic Cancer Center at the Perlmutter Cancer Center at NYU Langone Medical Center.
According to the piece, the Pancreatic Cancer Center will focus its efforts on the management of pancreatic tumors and transforming clinical findings into clinical practice. Dr. Simeone, along with her team, will investigate molecular events involved in the development of pancreatic cancer, including trying to identify biomarkers for the early detection of the disease and for targeted therapy approaches.
"In the past, pancreatic cancer took a backseat to the investigation of other forms of cancer," Simeone said, "but the increasing number of cases has changed that."
Pancreatic cancer is the world's toughest cancer. It is the third leading cause of cancer related-death in the U.S. with a five-year survival rate of just 9 percent.
"Advances in many areas of cancer biology and genomics have created an unprecedented opportunity to drive discoveries that have real impact on patients, especially those with lethal diseases like pancreatic cancer," Simeone said in a statement. "It is our obligation to step up to this challenge."
Dr. Simeone will remain associate director of translational research at the Perlmutter Cancer Center. She is also on the Pancreatic Cancer Task Force with the National Cancer Institute and is leading Precision PromiseSM, our innovative clinical trial platform for pancreatic cancer patients.
Learn more about Dr. Simeone and our SMAB members here.