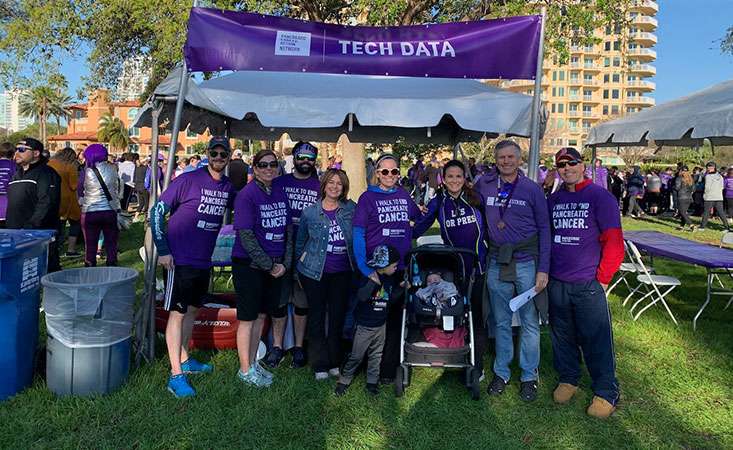 Tech Data's business may be all about "connecting the world through the power of technology," but we couldn't deliver on this vision without making our own connections through the power of our people.
Tech Data's support of PanCAN's PurpleStride – and the critical research they fund – have deep and personal meaning for both our company's culture as well as our individual colleagues whose lives have been impacted by pancreatic cancer.
Included among our colleagues whose friends, family members, or even themselves have fought bravely against pancreatic cancer is Tech Data's CEO Rich Hume. In 2018, Rich lost his wife of more than 30 years, Leslie Hume, to pancreatic cancer.
Joining Rich's family's PurpleStride team, "Les4Prez," Tech Data first sponsored PurpleStride Tampa Bay in 2020. Our colleagues followed the lead of Les4Prez captains Rich and his daughter Megan O'Dea, and made PurpleStride 2020 a family affair, with spouses, parents, children and friends all joining us in both fundraising and at the event itself.
Without the leadership of the Hume family, we may never have known how many Tech Data colleagues and their loved ones had a personal connection to pancreatic cancer and PanCAN. From the communications colleague whose mother continues treatment at Moffitt Cancer Center even today, to our team's top individual fundraiser Doug Kelley, who in 2017 lost his brother-in-law Johnny to pancreatic cancer – the connections between our colleagues have been enriched by our participation in PurpleStride.
We know PurpleStride 2021 will look different than last year: We aren't able to gather in person; we'll miss the high-five from Raymond at the starting line; and we can't drape medals around the necks of Tampa Bay's top fundraisers.
But we're inspired nonetheless.
We're inspired by the courage of the patients who persevere through grueling treatments with limited-to-no visitors to provide them support; we're inspired by the doctors and researchers who put their life-saving work ahead of their own needs day-in and day-out; we're inspired by the indomitable spirit of PanCAN fundraisers who won't be thwarted by the likes of a global pandemic, like Doug Kelley who started his own PurpleStride team this year, Team Johnny.
And all this inspiration deserves a little celebration. So we'll plan to see you at PanCAN Tampa Bay's virtual PurpleStride events with purple party hats on!