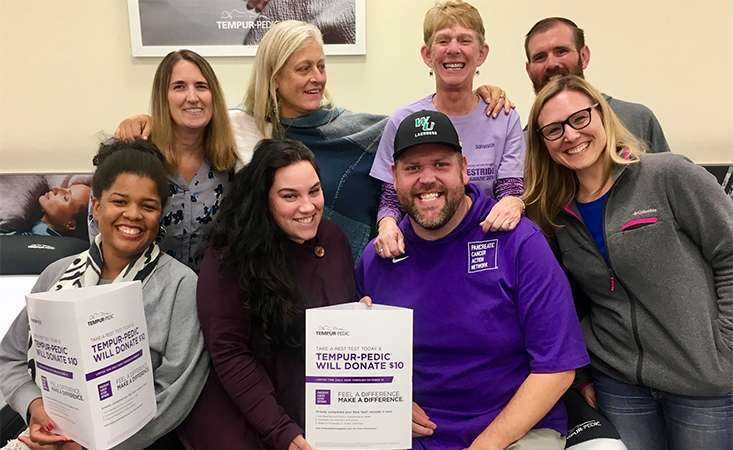 Everything looks different in 2020. And that includes what would normally be the Tempur-Pedic® Annual Rest Test promotion in stores during October benefiting the Pancreatic Cancer Action Network (PanCAN.)
This year, recognizing the challenges facing the pancreatic cancer community brought on by the pandemic, as well as the social distancing guidelines in place across the country, Tempur-Pedic has committed to a generous $200,000 donation in support of PanCAN's mission. In place of the annual Rest Test, Tempur is promoting awareness of pancreatic cancer through social media during October.
"We are overwhelmed with gratitude," said Lori Stevens, PanCAN's chief development and community engagement officer. "Tempur-Pedic has been our premiere corporate champion for more than a decade, and this generous donation illustrates the heart and depth of their commitment to the pancreatic cancer community."
Throughout the month of October, PanCAN is asking supporters to share why Tempur-Pedic's donation matters to them, making sure to tag @TempurPedic and @PanCAN. Post pictures of last year's Rest Test or with the Tempur-Pedic Hugs Back Teddy Bear from a previous promotion – use your imagination! Follow PanCAN's Facebook, Twitter and Instagram pages for ideas about creatively sharing your "why," too.
In previous years, PanCAN supporters have visited a Tempur-Pedic retailer to take a Rest Test – trying out a mattress. For each Rest Test completed, Tempur-Pedic donated $10 to PanCAN. Last year, the Rest Test generated a donation of $183,000, the largest ever.
In addition to the Rest Test, Tempur-Pedic has raised funds through a variety of programs, including the Tempur-Pedic Hugs Back Teddy Bear, employee giving and peer-to-peer fundraising.
Since the beginning of the partnership 11 years ago, and including this year's pledge, Tempur-Pedic will have donated a total of $2.5 million to PanCAN's programs and services for patients, caregivers and families.
"It was the right thing to do this year," said Jim O'Donnell, vice president of sales development for Tempur Sealy International, Inc. "We wanted to be sensitive to the additional risks facing a vulnerable population and make sure the pancreatic cancer community knows that Tempur-Pedic is staying the course with our support."
We are grateful to Tempur-Pedic and all their employees for the long-time commitment, which allows us to serve the patients, caregivers and families urgently seeking our resources and services.
Make a gift today
to support life-changing services for pancreatic cancer patients. They need your support now more than ever.