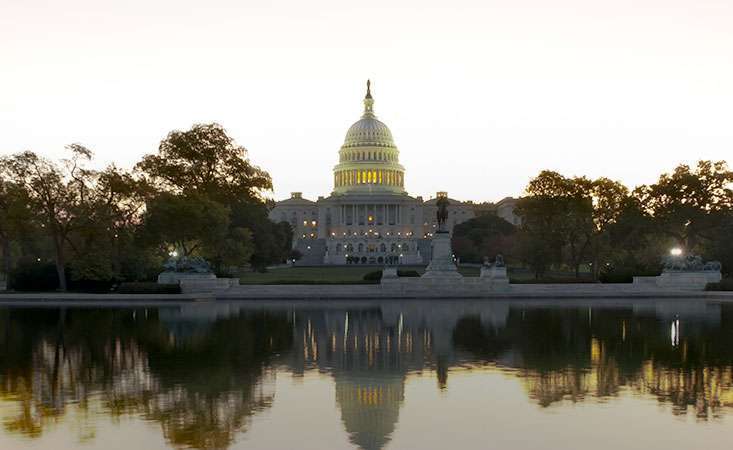 The Pancreatic Cancer Action Network's (PanCAN) legislative priorities are to increase the federal research investment into the disease – a disease with no early detection test or effective treatment options.
For the fourth year in a row, Congress has taken an important step and proposed significant increases to medical research funding as part of the annual appropriations process to reach a budget deal before the current fiscal year ends on September 30.
Medical research continues to receive bipartisan support as diseases such as pancreatic cancer don't discriminate. The robust  investment in the National Institutes of Health (NIH) by Congress in recent years is beginning to make up for years of flat funding – so progress can be made, and the research community can continue to grow.
The Senate Appropriations Committee approved its fiscal year 2019 Labor, Health and Human Services spending bill at the end of June.
The bill includes a $2 billion funding increase for the NIH and $190 million for the National Cancer Institute (NCI). "We are appreciative of the bipartisan and bicameral commitment to medical research and are grateful for the work of congressional leadership on this issue in both chambers," said Julie Fleshman, JD, MBA, president and CEO of PanCAN.
PanCAN along with other cancer advocacy organizations has been urging Congress to provide a $2 billion increase for the NIH and a proportional boost for the NCI. While the increases for the NIH and NCI were less than the organization had been asking for in the House, PanCAN is urging Congress to follow the Senate's lead and once again provide a $2 billion increase for the NIH.
Pancreatic cancer is on track to become the second leading cause of cancer-related death in the United States around 2020. There is an urgent need for additional focused research efforts to fight this disease.
This year, PanCAN worked with its champions to ask Congress to create a new, Pancreatic Cancer Research Program at the Department of Defense's (DoD) Congressionally Directed Medical Research program. The program would provide additional resources to support efforts to advance pancreatic cancer discoveries and improve outcomes for pancreatic cancer patients.
Pancreatic cancer represents a prime opportunity for researchers to propose and test innovative ideas that could have a dramatic impact on patient outcomes – quickly.  Despite the endeavors of thousands of PanCAN advocates who took repeated actions on this activity in 2018, Congress did not include new funding to create a new pancreatic cancer research program.
But the opportunity is still on the table for next year. In the meantime, pancreatic cancer will remain within the DoD's Peer-Reviewed Cancer Research Program (PRCRP) where it has benefited from inclusion since 2011.
This is still a win for patients as pancreatic cancer is once again a disease eligible for funding though the program and Congress approved $80 million for the program this past year, an increase over the prior year due to the efforts of our advocates.  PanCAN will continue to appeal to Congress to provide an increase for the program this year.
While the appropriations process will play out over the coming months before a final deal is reached, PanCAN urges you to visit with your members of Congress when they return to your city in August to make your requests known.
Please email
advocacy@pancan.org
to receive information on how to set up an in-state meeting with your member of Congress.