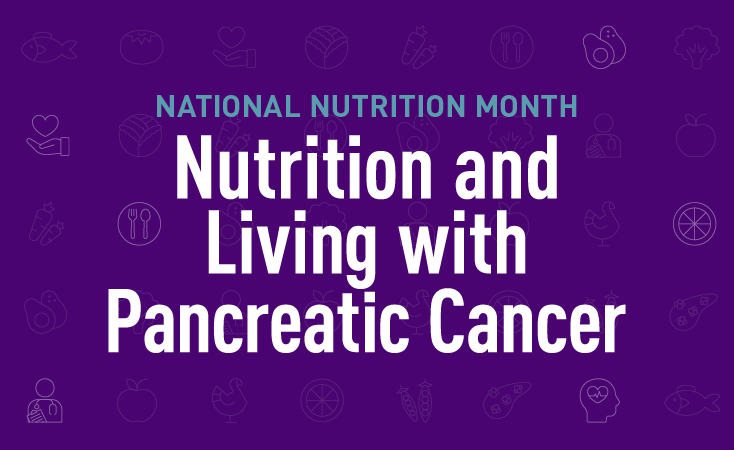 Proper nutrition is important for maintaining a good quality of life. With the onset of pancreatic cancer and related treatments, it might become critical. So, we are kicking off National Nutrition Month with an interview with our Chief Medical Officer, Anne-Marie Duliege, M.D.
We asked Anne-Marie to share key elements that pancreatic cancer patients should know about diet and nutrition. She also gives a preview of what is to come on this topic throughout March on our PanCAN blog.
Anne-Marie, what is something you wish all patients knew about nutrition?
I would like to convey to patients how important it is to have the proper nutrition at this time in their lives. It is common for patients with pancreatic cancer to experience symptoms like loss of appetite, weight loss, diarrhea and diabetes, so it can be more challenging to get proper nutrition – but doing so can help tremendously in how one feels mentally and physically. Also, many side effects of chemotherapy can be managed or prevented through proper nutrition.
It is also important for patients to realize that specific diets and nutrition cannot treat their cancer, as in, "cutting out all sugar and carbs will help fight the disease." I understand that patients want to feel "in control" of their cancer, as opposed to the cancer controlling them. But sometimes people go to extreme measures with inappropriate diets that do not help and can actually cause harm.
Give us your thoughts on oncology dietitians and their role in patient care.
If possible, patients should try to seek out a team of healthcare professionals for their care as opposed to being under the care of only one or two people. Most cancer centers have a support team for each patient and that team may include physicians, nurses, social workers, supportive care specialists and a professional dietitian. Finding experts and centers that have experience treating pancreatic cancer is a component of "The Right Track" – steps we recommend patients take after diagnosis. Each member of this team is highly specialized and focused on specific parts of your care, but at the same time, they are all working together to ensure that you have the best outcome.
A dietitian – and especially one that specializes in caring for cancer patients – plays a very important role in the patient's wellbeing by guiding nutritional needs related to side effects from the cancer itself or from treatment. They can pass along tips, such as, focus on eating six small meals throughout the day as opposed to three large ones. Or to gain weight, focus on these protein sources. Or to settle an upset stomach, avoid these foods. These are just a few of the areas in which dietitians can advise patients and, at the same time, improve their quality of life.
This sounds a lot like supportive care. Can you talk about this aspect of a patient's experience with pancreatic cancer?
Supportive care is about providing comfort and improving quality of life during and after treatment by reducing and possibly alleviating the symptoms and side effects of pancreatic cancer and treatment.
We recommend that symptom management and supportive care be provided soon after diagnosis and maintained throughout treatment. Good nutrition can help patients keep a healthy weight and better tolerate some of the side effects, so it is definitely a part of supportive care.
And let's not forget the importance of pancreatic enzymes when discussing nutritional needs as part of supportive care. PanCAN's Precision PromiseSM Supportive Care Committee members, along with Lynn Matrisian, PanCAN's Chief Science Officer, authored an article that stated that weight loss in pancreatic cancer patients should be treated as aggressively as the cancer itself and recommended that patients receive pancreatic enzyme replacement therapy as part of the set of evidence-based recommendations for doing so.
Pancreatic enzymes – tell us more.
This topic is an important one – and it will be discussed in more depth on PanCAN's blog as part of our Nutrition Month coverage. But the short answer is that patients' tumors or treatment can prevent the pancreas from using enzymes to break down food properly. And inability to absorb nutrients due to enzyme insufficiency can affect quality of life and ability to tolerate treatment. Pancreatic enzyme replacements can help. Unfortunately, we know that many patients are not told about enzyme replacement and how critical they are. One note – enzymes can be expensive, but our Patient Services team can help patients and families find resources that may help with cost.
What else can patients and families expect to read about this month as part of our exploration of diet and nutrition topics?
We have a lot of important information to share, including a discussion with PanCAN's Scientific and Medical Advisory Board member Jeannine Mills, a clinical oncology dietitian at Dartmouth's Norris Cotton Cancer Center, about everything from how to read a nutrition label to mind-boosting foods – and whether they may help with "chemo brain." You will get to hear from a caregiver about how nutrition made a difference in his mother's pancreatic cancer experience, and we'll pass along a list of questions to ask your oncology dietitian. As mentioned, we will go more in-depth with pancreatic enzymes and everything patients should know about enzyme replacement therapy.
Also, we encourage patients and caregivers to contact our Patient Services team for more information on diet and nutrition – we can send you a free booklet with tips on the topic – and anything else related to living with pancreatic cancer. We are here to help and look forward to supporting you.
Contact PanCAN's
Patient Services
for comprehensive information about living with pancreatic cancer, including diet and nutrition as well as resources to find a dietitian.