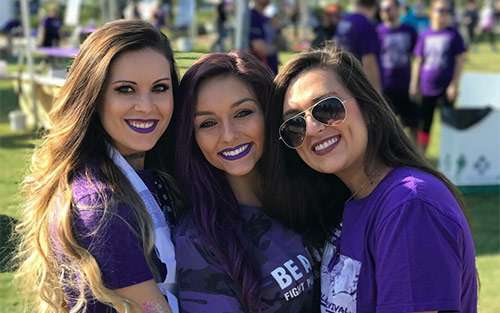 More than 4,000 people turned purple on Saturday, Sept. 9, as they took to the streets in Boise, Charlotte and Pittsburgh at PurpleStride, the walk to end pancreatic cancer. The 5K walk/run events are estimated to raise close to $700,000 collectively for vital pancreatic research and patient services.
PurpleStride Charlotte 2017 presented by Carolina Digestive Health Associates had approximately 2,100 people who honored survivors and loved ones, as well as celebrated milestones during the inspiring event. WBTV's Morning Break Team served as special guests and emcees for the event that raised more than $400,000.
It was a beautiful day at PurpleStride Pittsburgh 2017 presented by HM Insurance Group as more than 1,350 people, including 42 survivors, gathered together to end pancreatic cancer. Award-winning anchor Kristine Sorensen of KDKA-TV's Pittsburgh Today Live served as the event's emcee.
PurpleStride Boise was sunny and warm as nearly 600 supporters enthusiastically turned out in their purple gear to walk with fellow pancreatic cancer supporters. Emceed by KQFC's morning show host Steve Shannon, PurpleStride Boise raised $65,000 to support the cause – well beyond their goal of $50,000.
PurpleStride wouldn't be possible without the passion and participation of a nationwide army of volunteers, survivors, caregivers, fundraisers and researchers. The Pancreatic Cancer Action Network (PanCAN) wholeheartedly thanks everyone who makes PurpleStride possible. Funds raised through PurpleStride supports PanCAN's services including Precision Promise, Know Your TumorSM and the Patient Registry.
Join in on the fun and make a meaningful impact in the fight against pancreatic cancer. Register today for your local PurpleStride.