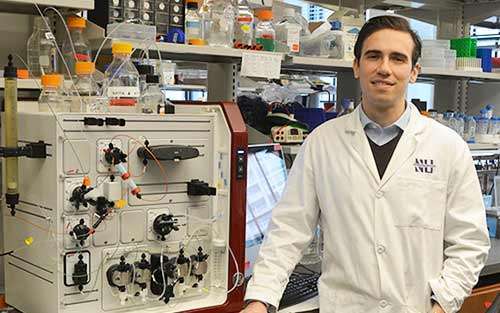 Together with the Frederick National Laboratory for Cancer Research (FNLCR), we proudly announce our two Fellowship and two Travel Scholarship recipients. The four postdoctoral research awardees will work to better understand the biochemistry of the mutated KRAS protein, which is found in 95 percent of pancreatic cancers.
"The three leading causes of cancer-related deaths in the U.S., lung, colorectal and pancreatic, involve the KRAS mutation," said Julie Fleshman, JD, MBA, our president and CEO. "Understanding KRAS would be an enormous game-changer for many cancers."
The awards, which are based on a competitive peer-review process, are aligned with the RAS Initiative of the National Cancer Institute (NCI), a program established in 2013 to increase focus on the RAS family of oncogenes, which are mutated in more than 30 percent of all human cancers. The Initiative was launched as a result of the Recalcitrant Cancer Research Act, whose passage was due in large part to our advocacy efforts.
Awardees are also included in our Community for Progress, which affords recipients the opportunity to participate in scientific meetings, establish research collaborations and engage with the broader pancreatic cancer community.
KRAS mutations are known to lead to extremely aggressive tumors, and the mutations' prevalence in pancreatic cancer is one of the reasons that it's one of the deadliest cancers. In fact, pancreatic cancer has moved from the fourth to the third-leading cause of cancer-related death in the United States.
Frederick National Laboratory for Cancer Research is the only national laboratory dedicated exclusively to biomedical research and serves as the "hub" of the RAS Initiative. As part of their award, KRAS awardees have already gotten to visit FNLCR to meet with RAS leadership, tour the facility and receive training and mentorship.
During their visits, the awardees were each assigned a group leader who showed them around and introduced them to other researchers. The awardees learned about and were granted access to onsite technology to support their funded research, and they had an opportunity to speak to the FNLCR team about their projects and aims.
Below are excerpts from their experience.

2016 KRAS Fellowship Recipient
Marco Biancucci, PhD
Northwestern University – Chicago Campus
2016 Samuel Stroum – Pancreatic Cancer Action Network – NCI Frederick National Laboratory for Cancer Research KRAS Fellowship
"I have been given the opportunity to collaborate with one of the most advanced centers for RAS biology, with leading experts who have different expertise in the field. I'm planning to make another trip to FNLCR in order to directly perform most of the experiments proposed and to be trained with new technologies. Through this collaboration and future meetings I will attend with the Pancreatic Cancer Action Network, I will have the opportunity to expand my knowledge and network in the cancer biology field."

2016 KRAS Fellowship Recipient
Perry Kennedy, PhD
H. Lee Moffitt Cancer Center and Research Institute
"Everyone I met was very friendly, helpful and willing to collaborate to advance our common goal of inhibiting RAS activity to shut down RAS-drive cancers. The openness and willingness to help advance our research was very refreshing. I believe the dialogue and collaboration this award promotes is very beneficial to accelerating our progress in helping patients."

2016 KRAS Travel Scholarship Recipient
Bjoern Papke, PhD
University of North Carolina at Chapel Hill
"Frederick National Laboratory for Cancer Research has many vital resources. These include the quality of the equipment, the versatility of methods and facilities, as well as human intellectual resources. I plan to use these resources to conduct my experiments."

2016 KRAS Travel Scholarship Recipient
Kamini Singh, PhD
Memorial Sloan Kettering Cancer Center
"I am excited to work together with FNLCR. Apart from various ideas related to my proposed project, I was very impressed with the genomics, proteomics and imaging expertise and look forward to utilizing these imaging tools through a joint venture."