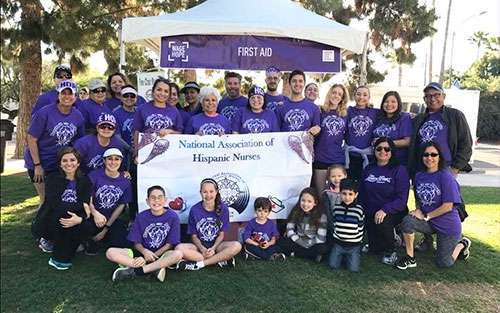 This weekend, the pancreatic cancer community came together in two cities to Wage Hope at PurpleStride, the walk to end pancreatic cancer.
At PurpleStride Phoenix Presented by Macy's, nearly 2,000 striders turned the Scottsdale Civic Center purple as they raised awareness and funded research for the nation's third leading cause of cancer death. Participants shattered their $200,000 fundraising goal with the money going directly to pancreatic cancer research and patient services. We estimate that with event day revenue included, PurpleStride Phoenix will have raised $218,000 in total!
More than 700 passionate supporters also turned out at Veteran's Park on Saturday to Wage Hope at PurpleStride Birmingham Presented by UAB Medicine. Before the event, the Birmingham community had raised more than $75,000 to benefit patient services and vital research. With their estimated event day revenue, we believe they will reach over $79,000 total!
Thanks again to all the passionate community members who helped us move the needle on pancreatic cancer at PurpleStride Birmingham and PurpleStride Phoenix! Each PurpleStride brings us one step closer to our urgent goal of doubling pancreatic cancer survival by 2020.
View photos from the events below, and register today for your local PurpleStride, the walk to end pancreatic cancer.