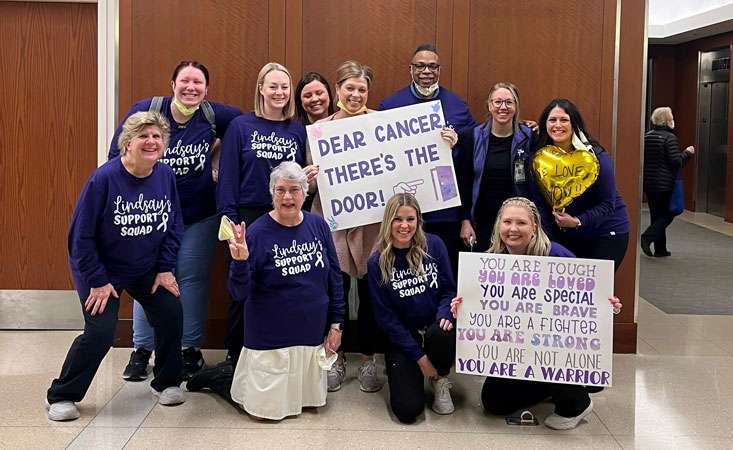 Editor's note: April 10 is National Siblings Day. This year, read about two sisters, Lindsay and Meghan, who live in different communities and taking steps at a PanCAN PurpleStride event happening on Saturday, April 29, 2023. Lindsay, a pancreatic cancer survivor who was just diagnosed in December 2022, will be walking in Chicago with her team, while Meghan will be attending the Michigan event with her own team.
In Chicago, Lindsay Gavin's friends and coworkers always show up. During all six rounds of chemotherapy, they've been there. As many as 25 of them, with their handmade signs and boundless energy and enthusiasm, at the 6 a.m. appointments.
On Saturday, April 29, at PanCAN PurpleStride Chicago, they will also be there for Lindsay – walking alongside of her, her husband and their two young daughters as part of the team they organized, Team Working on a Cure. This level of support has propelled the PurpleStride Chicago group to the top spot among all the fundraising teams there so far, with over $21,000 raised.
Meanwhile, in Detroit, near where Lindsay grew up, friends and family are showing up there, too. They've also formed a PanCAN PurpleStride team to show their love and support and so far, they're the second-place fundraising team at PurpleStride Michigan. Lindsay "Lu Lu's" Army, organized by Lindsay's sister Meghan McIntyre, is just as enthusiastic and hopeful as the group in Chicago. They've even created a special T-shirt and they're selling it to raise more funds to support PanCAN and survivors like Lindsay.
Two sisters, two teams, two communities, with one common goal – to end pancreatic cancer.
Lindsay was shocked when she was diagnosed with stage 4 pancreatic cancer in December 2022. A registered nurse who works in pediatrics, she had been working to heal her work-related shoulder injury when she went to the doctor one day with heart palpitations. Doctors found not only diverticulitis, but also an abscess on her colon, spots on her liver and two tumors on her pancreas.
"I went into a depression," Lindsay said. "It was my mom and sister who did all the research about what we should do next. In their research, they found PanCAN."
The dollars that Team Working on a Cure and Team Lindsay "Lu Lu's" Army raise go toward funding research into early detection of pancreatic cancer and treatment breakthroughs. The funds also make it possible for those facing pancreatic cancer, like Lindsay, and their loved ones, like Meghan, to get free, one-on-one support from a dedicated and compassionate PanCAN Patient Services case manager who can guide them every step of the way.
A community of fundraising supporters at PanCAN PurpleStride, which includes hundreds of pancreatic cancer survivors, also gives hope to others.
Meghan learned about PurpleStride when she and her parents attended a Detroit volunteer-run kickoff meeting for the big day.
"It was so nice to meet other people in a similar situation and to also hear that there's so much hope," Meghan said. "Having a group of people locally that I can get to know and who can serve as great resources means a lot."
Meghan and Lindsay are four years apart in age. They grew closer in college after a childhood rife with the typical, trivial big sister (Lindsay)/little sister (Meghan) annoyances, they said. Today, they love being together, swapping work stories (Meghan is also a nurse), watching their children play and enjoying quality time with family.
Lindsay said that the six rounds of chemotherapy she has completed have proven successful – all four of her tumors had shrunk after the first scan since starting treatment.
She is looking forward to PurpleStride Chicago, where her coworkers and friends will again show up with signs (a favorite is the one that says, "Dear Cancer, There's the Door,") plus being decked out in purple tutus, with purple pompons, and purple pride.
On event day in Detroit, miles away, Meghan plans to be "loud and obnoxious," using a new megaphone she bought to get in the fighting spirit to make Team Lindsay "Lu Lu's" Army stand out in the exuberant crowd.
Lindsay can't wait.
"Having a work family and a support system here in Chicago," she said, "along with my family and friends in Detroit, and everyone coming out for PurpleStride…it's really incredible."
Register
for free and fundraise at one of 60 PanCAN PurpleStride events near you on Saturday, April 29.