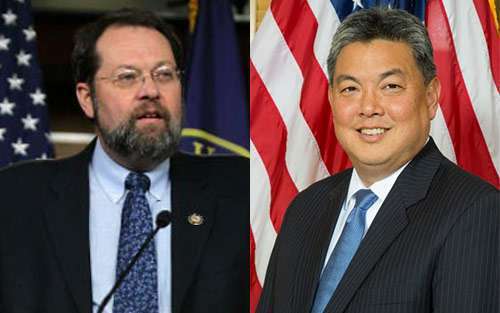 Today, congressional leaders came together with bi-partisan support for cancer research during our 10th annual Advocacy Day in Washington D.C.
More than 650 advocates, including over 100 pancreatic cancer survivors, stormed our nation's capital to urge Congress to make cancer research a national priority. By their side, stood long-time champion Senator Sheldon Whitehouse (D-RI), who served as the keynote speaker for the event, sending off a "sea of purple' advocates to flood the steps of Capitol Hill.
Watch Senator Sheldon Whitehouse (D-RI) send-off speech featuring Pancreatic Cancer Action Network president & CEO, Julie Fleshman.
Pancreatic cancer is no stranger to Congress. Just last year, we lost Congressmen Mark Takai and Steve LaTourette to this formidable enemy. LaTourette served as a guest speaker for last year's event.
To pay tribute to these leaders, members from all parties have united in the fight against pancreatic cancer, our nation's toughest cancer.
U.S. Reps. Colleen Hanabusa (D-HI) and David Joyce (R-OH) co-authored the following op-ed in honor of the late congressmen Mark Takai and Steve LaTourette. Hanabusa and Joyce filled Takai and LaTourette's congressional seats of after their passing, and have since committed to Wage Hope in their memory.
The op-ed was also featured in The Hill.
---
Mark Takai was a person of great humility; Steve LaTourette of great wit. They were both dedicated to their families and public service, one served as a state legislator, the other a prosecutor, before being elected to the House of Representatives, Mark in 2014 and Steve in 1994.
Although Mark and Steve had different backgrounds that brought them to the halls of Congress, they had one other major thing in common – pancreatic cancer. Mark succumbed just nine months after being diagnosed in July 2016. He was just 49. Steve, 62, passed away just weeks later, in August 2016. Today, we are proud to carry on their legacies in the seats they once held, as the Representatives in the 1st District of Hawaii and the 14th District of Ohio.
This month, hundreds of pancreatic cancer patients and their families will be in Washington, D.C., to make their case for more funding for cancer research and a greater federal commitment to finding better treatments and ultimately cures. It is the 10th anniversary of the National Pancreatic Cancer Advocacy Day on Capitol Hill.
They have a powerful case. Pancreatic cancer is one of the most vicious and deadly cancers in America, with a five-year survival rate of only 9 percent. There is no cure. Every single day, on average, 117 people lose their battle to the disease. Before the year is out, it is estimated that 43,900 will succumb.
There is no early detection. More than 70 percent of patients will die within the first year of diagnosis. Only 4 percent of patients are involved in clinical trials. Most are simply and tragically told to go home and put their affairs in order. It is today the third most deadly form of cancer. In a few years, it will be the second.
Progress is being made but it is slow. The Pancreatic Cancer Action Network, led by President and CEO Julie Fleshman, JD, MBA, practically since its origin, has awarded more than $35 million in research grants to 143 researchers and 55 institutions in the last two decades. Congress took a step toward addressing pancreatic and the other deadliest cancers by passing the Recalcitrant Cancer Research Act of 2012. The National Cancer Institute (NCI) is making important progress implementing the statute, which is opening new avenues of NCI-supported research. Further, in a landmark effort last year, Congress passed and President Obama signed the 21st Century Cures Act, sponsored by our colleagues Rep. Fred Upton of Michigan and Rep. Diana DeGette of Colorado.
More, not less, needs to be done. We both recognize the critical nature of the federal debt. We both want to put the budget in balance, but cutting back on research into our nation's deadliest cancers, like pancreatic cancer, is counterproductive and frankly, inhumane. Curing diseases such as pancreatic cancer saves lives and that is first and foremost; but cures also take a heavy burden off our health care system, especially Medicare.
We miss Steve and Mark. They were friends and compatriots. They were wonderful human beings, and they were effective, dedicated legislators, always looking for solutions, always working, always contributing, both to the legislative process, and to the cause of civil discourse, as well. Their deaths were a great loss to the people of Hawaii, Ohio and the entire country.
Our service in the Congress is dedicated to their memory and what they sought to accomplish. We Wage Hope in their names.
Representative Colleen Hanabusa
Democrat, Hawaii
Representative David Joyce
Republican, Ohio