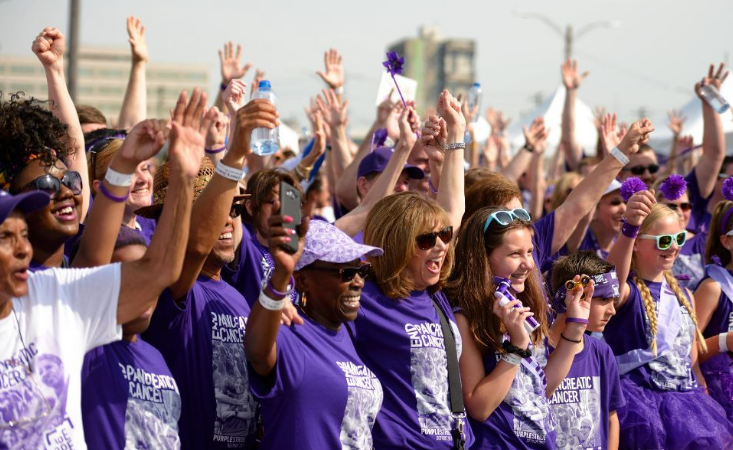 PanCAN PurpleStride One Big Day was a series of firsts: the first time PurpleStride was a true national event, with all 60 events taking place simultaneously, our first celebrity ambassador Mindy Kaling and the first time all five University of California Cancer Centers participated in PanCAN PurpleStride!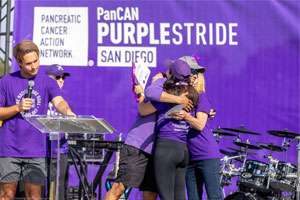 The University of California Pancreatic Cancer Consortium (UCPCC) was formed in 2017 with researchers from the five UC Comprehensive Cancer Centers working together to create a collaborative research and resource partnership. The five UC members include UC Davis, UC Irvine, UCLA, UC San Diego and UC San Francisco.
Through their local PurpleStride sponsorship and team participation, the UCPCC raised $43,000, thanks to the efforts of 50 team members. UC San Diego Health has a long history of top sponsorship of PurpleStride and this year was the Premier Sponsor for PurpleStride San Diego. UC San Francisco was a Silver Sponsor for PurpleStride San Francisco this year, their fourth year of sponsorship.
PanCAN PurpleStride gave researchers from these UCPCC campuses a unique opportunity to engage with more colleagues and the people whose lives they are working to improve every day, said Kurt Giles, D.Phil., associate director, UCSF Pancreas Center and director of scientific affairs, UC Pancreatic Cancer Consortium.
"In addition to the opportunity to raise critical funds, I see this as a great example of multiple UC campuses collaborating for a common cause," Dr. Giles said.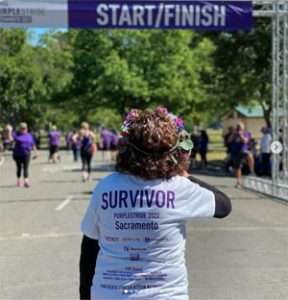 Most importantly, PurpleStride is the direct connection to the pancreatic cancer community. Dr. Giles said, "PanCAN PurpleStride is a unique opportunity for our researchers and scientists to come together with the patients, caregivers and families impacted by pancreatic cancer."
PanCAN President and CEO Julie Fleshman, JD, MBA, agreed.
"Institutions are the link to patients in their communities all across the country, and PurpleStride puts it all together – allowing PanCAN to bring our message and resources straight to patients and their families," she said.
"For participants, it puts a face on the pancreatic cancer community and the people we serve," Fleshman said. "Next year, it's our goal to have even more participation from campuses and institutions nationwide, just as the University of California Cancer Centers did. And, with 60 PanCAN PurpleStride events all happening on one big day on April 29, 2023, we're sure to be in the neighborhood!"
For this year's five participating UCPCC campuses, even though the emphasis is on the collaboration, there's also room for a little rivalry.
"Having teams from five UC campuses provided a little friendly competition as we tried to outraise one another!" Dr. Giles said.
Just more inspiration for other institutions looking to participate next year!
There's still time to donate to
PanCAN PurpleStride
! You have until June 30 to make a gift to support PurpleStride and create a world in which all patients with pancreatic cancer will thrive.