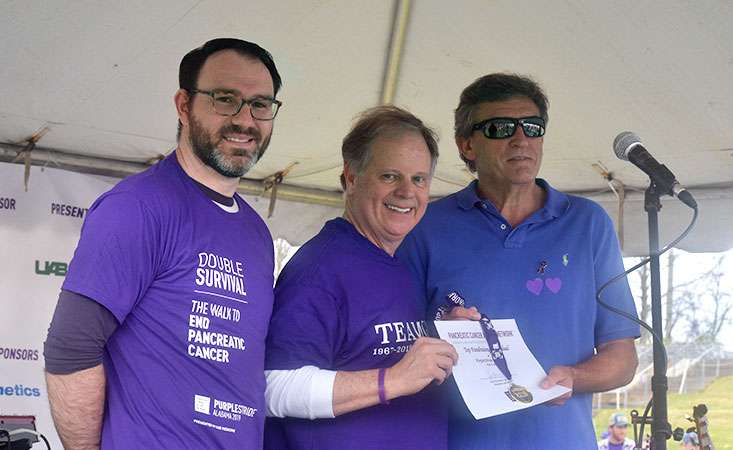 "Without advocacy groups like PanCAN, we'll never make significant advancement in the treatment of pancreatic cancer."
That's how much Dr. J. Bart Rose, MD believes in PanCAN's mission to take bold action to improve the lives of everyone impacted by pancreatic cancer: advancing scientific research, building community, sharing knowledge and advocating for patients.
Dr. Rose is an assistant professor and director at The University of Alabama at Birmingham (UAB Medicine) Pancreatobiliary Disease Center.
For the past nine years, UAB Medicine has been a proud sponsor of PanCAN's PurpleStride Alabama.
The O'Neal Comprehensive Cancer Center at UAB Medicine is one of only 50 comprehensive cancer centers designated by the National Cancer Institute and they have a long-standing history of treating patients with advanced pancreatic cancer.
Their vision "to eliminate cancer as a major public health problem" aligns well with PanCAN's vision. It also made sponsoring PurpleStride Alabama a perfect fit for them.
Dr. Rose devotes his career to treating pancreatic cancer patients, but his dedication doesn't end there. He's also an advocate for increased federal funding for pancreatic cancer research.
In November 2019, he testified on the state of pancreatic cancer at a hearing with the United States Senate Special Committee on Aging.
Dr. Rose reported that large disparities in outcomes and access to life-saving operations affect the rates of survival for pancreatic cancer patients in Alabama. He and others on the panel argued that investing in medical research at the national level – specifically, establishing a new, $10 million Pancreatic Cancer Research Program within the U.S. Department of Defense – is the key to improving those rates. When federal funding for pancreatic cancer research increases, so do the survival rates.
UAB Medicine is hopeful that the research happening at UAB Medicine and through PanCAN will make significant improvements in the lives of pancreatic cancer patients by both increasing rates of cure and improving the quality of life of those living with it.
The team at UAB Medicine says when they think of PanCAN and pancreatic cancer survivors, these words come to mind: resilient, informative, trustworthy, fighters, family, dedication.
We are grateful for Dr. Rose and UAB Medicine's tireless commitment to bringing an end to pancreatic cancer.
Register for
PurpleStride Alabama
, put on your purple and join us to put an end to pancreatic cancer!