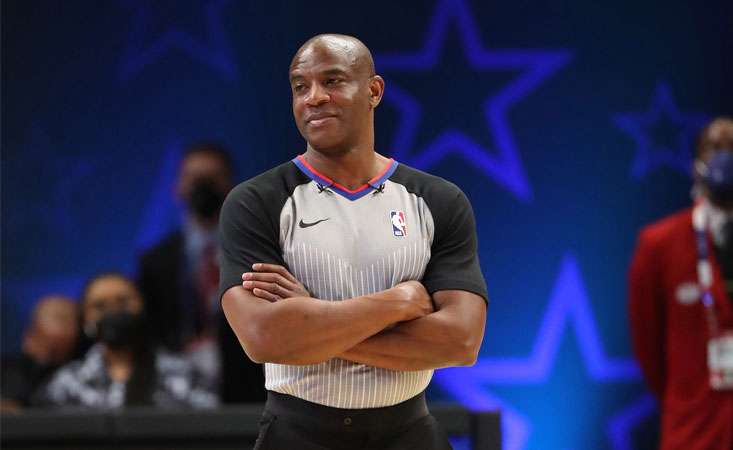 Editor's Note: We are deeply saddened by the passing of Tony Brown on October 20, 2022, following an 18--month battle with pancreatic cancer. Our PanCAN family sends deepest sympathies and heartfelt condolences to his family and friends.
The NBA Finals may be over, but veteran NBA referee Tony Brown's battle with pancreatic cancer continues.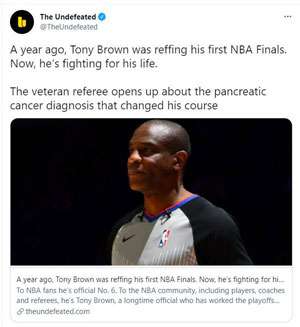 The longtime official was diagnosed with stage IV pancreatic cancer in April. Last week, he shared his moving story in The Undefeated, as told to writer Jerry Bembry.
"To NBA fans he's official No. 6. To the NBA community, including players, coaches and referees, he's Tony Brown, a longtime official who has worked the playoffs and All-Star Games in the NBA, WNBA and CBA over the past two decades.
Brown, 54, had hoped to be working this week but has spent these past few months as a spectator instead. Here's his story."
The National Basketball Referees Association joined forces with PanCAN to raise awareness and critical research funding for patients like Brown and the nearly 61,000 other Americans expected to be diagnosed this year. A Wage Hope My Way fundraising page created to support Brown is central to the fundraising effort.
Brown's diagnosis journey is one heard all too often. From The Undefeated:
"The doctor, startled by our unawareness of my situation, delivered a sledgehammer.  
You have stage 4 pancreatic cancer.
It has spread to your liver.
Wait, what?
Cancer?
I had never seen an oncologist before that day, had never had any ailments and I was the picture of health."
Brown began chemotherapy the week after his diagnosis and is currently receiving every-other-week treatments.
He's received an outpouring of support from NBA superstars and the NBRA alike.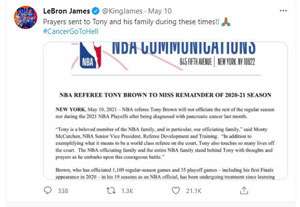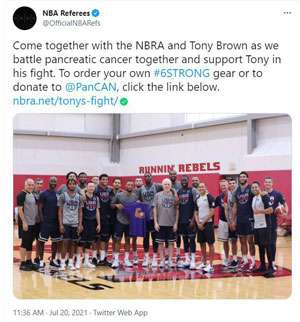 Before Game 6 of the Finals this week, officials honored his fight: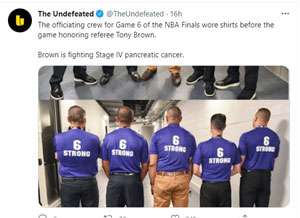 Brown has also worked to educate himself since being diagnosed. More from The Undefeated:
"One source of information is PanCAN, a wonderful organization dedicated to fighting pancreatic cancer. In the process of educating myself, I've made changes in my life. The main change is my becoming a plant-based eater, which might be a shock to my friends who have known me as being a carnivore my entire life.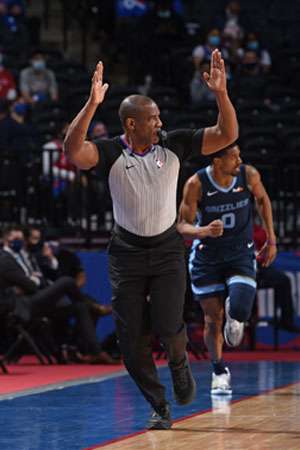 Faced with the battle of — and for — my life, I've come to a better understanding that what you put into your body is crucial."
Brown is planning to ring that bell, signaling his final chemo treatment and getting back on the basketball court.
In the meantime, Brown's message to all, as told to The Undefeated is this:
"This journey is bigger than me. My fight is not only for myself, but for everybody who cares. Great things will evolve and emerge from my experience, and when it does, I plan on sharing it with everyone I can. 
As I watch these NBA Finals, let my story be a lesson on how quickly life can change and how you should live every day of your life to the fullest."
Contact PanCAN Patient Services
for free, personal one-to-one support about a pancreatic cancer diagnosis, genetic and tumor biomarker testing, treatment and symptom management – including diet and nutrition resources like our popular booklet on the topic.