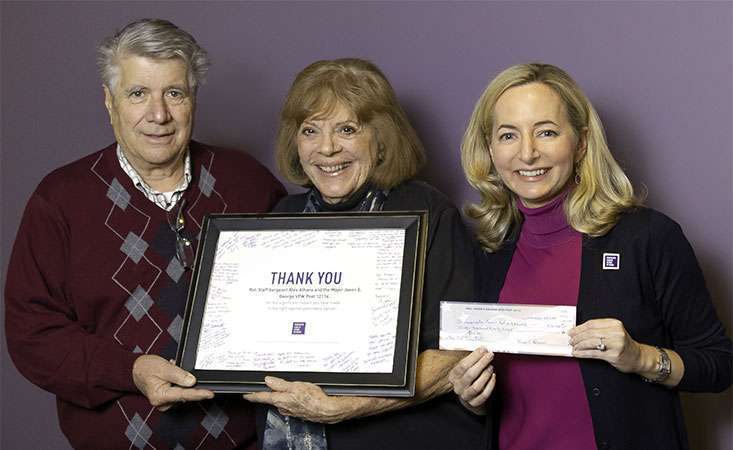 Alex Athans fought for the United States during the Vietnam War. Now the 78-year-old Southern California resident is fighting an entirely new battle, this time on his own soil.
"Why do we do it? Because it needs to be done," Athans said of his mission.
His fight started after losing his daughter Christina to stage IV pancreatic cancer. Diagnosed at 42, Christina underwent chemotherapy for two years before passing away. She was just 44 years old.
"About two or three days before she died, I was sitting in the hospital room with her when she suddenly turned to me and said, 'We're not at Disneyland here. I'm going to die and when I do, I don't want flowers at my funeral. Instead, I want you to raise money so no other parent has to suffer the loss of a child like you and mom will.'"
That was in 2014. Since then, Athans and a group of veterans from theVFW) 12114 service organization have raised thousands of dollars for the Pancreatic Cancer Action Network (PanCAN) in Christina's honor. The money raised helps PanCAN attack pancreatic cancer on all fronts: research, clinical initiatives, patient services and advocacy.
This year, Athans' VFW post in Tehachapi, Calif., raised more than $20,000.
"I see what PanCAN has done and it's so powerful and motivating," Athans said. "I see the good PanCAN does and it helps me see a light at the end of the tunnel.
"Every year that light gets a little brighter than the previous year. We are well on our way to doubling survival and who knows, maybe the money we raise will make the difference in finding a cure."
Athans said what started as his mission for his daughter has become a mission for the community. Since he began raising money four years ago, Athans has lost four Vietnam War buddies to pancreatic cancer. He lamented the disease has taken even more loved ones associated with his VFW post.
"The love between service members is different than any other kind of love you have for anyone," said Athans.
"There is nothing you won't do for your buddy, and there's nothing your buddy won't do for you. That's why everyone wants to help with this mission to find a cure. I lost a daughter, and they felt they lost a daughter too."
Apart from the $20,000 Athans and the Tehachapi VFW raised this year, they also presented checks to PanCAN in the amounts of $4,000 in 2015, $11,000 in 2016 and $14,000 in 2017. In total, they've presented PanCAN with nearly $50,000.
While they've managed to outdo themselves each year, Athans said that isn't a goal of his. All he wants to do is raise funds so he can keep his daughter's dying wish alive.
"Twice in my life, I can say it was an honor to serve," Athans added. "First when I served in Vietnam, and second when I served Christina by fundraising for PanCAN. It's been an honor to do both.
"I have no regrets. I have no regrets about all I'm doing to honor my daughter's life and in helping PanCAN double survival."
Turn your passion into progress – host an event, donate your birthday or create a tribute page for a loved one through
Wage Hope My Way
. Your support is vital in the fight against the world's toughest cancer.