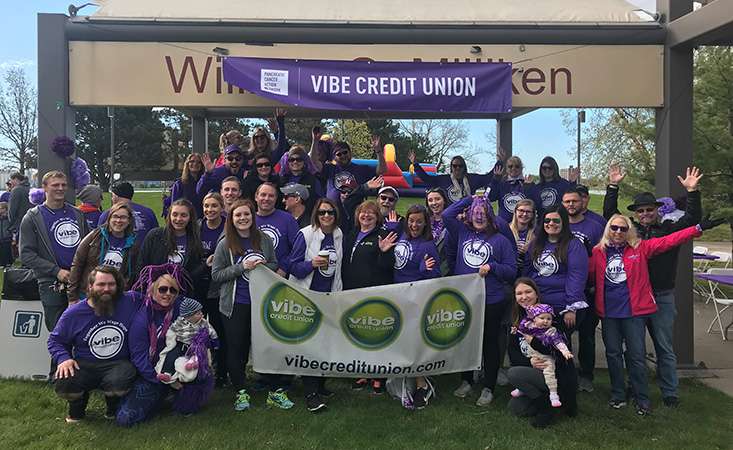 Editor's Note: Guest contributor Stephanie Leahy, VP Marketing for Vibe Credit Union, describes how Vibe's personal connections to pancreatic cancer have driven support for PanCAN PurpleStride Michigan for more than 10 years, fielding top fundraising teams and, in 2022, as Premier Sponsor.
Vibe Credit Union has a long history of supporting PanCAN PurpleStride. We're so thankful that we can all walk together this year, and we are celebrating by offering PurpleStride Michigan our support in an even bigger way than ever before. This year, we're proud to be the Premier Sponsor of PanCAN PurpleStride Michigan 2022. We're ready to help make a difference in pancreatic cancer research, patient services and advocacy.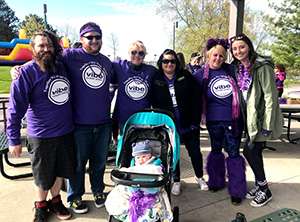 Vibe first got involved in PurpleStride more than 10 years ago when one of our employees lost a loved one to pancreatic cancer. Soon after, more team members shared how their family and friends had also been affected by a pancreatic cancer diagnosis, which ignited our passion for supporting the cause.
To honor those who have fought, we create a custom team T-shirt each year that includes the names of loved ones who have battled the deadly disease. This year, our employees submitted 41 names to be honored or remembered on the back of our team shirt. We can't wait to show off our shirt and honor our loved ones on Saturday, April 30, at PurpleStride Michigan.
Vibe employees have a proud tradition of being among the top fundraising teams at PurpleStride Michigan. Over the years, our 250 employees have raised funds through various activities, like candy sales, bowl-a-thons, trivia and movie nights. This year, our employee casual day donations totaled $7,500, which we hope will keep us in one of the top team positions.
Seeing the generosity of our staff and having a chance to meet members of the other fundraising teams, survivors and caregivers make PurpleStride Michigan one of our favorite events of the year. Coming together as a Vibe Family in support of the fight for progress is a privilege. The walk creates a strong bond between our employees, and we love that our employees bring their own families to walk with us.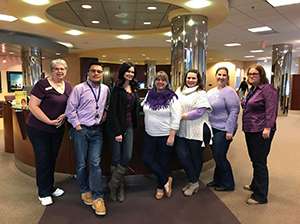 Our participation in PurpleStride aligns with the credit union's philosophy of Caring for the Community. We've committed to our 72,000 members in our 16 locations that we will invest our time and resources in the communities we serve. PurpleStride allows us to honor that commitment.
Pancreatic cancer is still one of the deadliest cancers, and with only a 5-year survival rate of 11%, there is still much work to do to raise money for research on early detection and finding new and improved treatments.
If you're reading this, you must be interested in the fight against pancreatic cancer, so we encourage you to register for PurpleStride in your community. When you walk, you'll be striding to help make meaningful progress and improve outcomes for pancreatic cancer patients and their families.
PanCAN PurpleStride will take place on One Big Day – April 30, 2022 – in 60 communities including PurpleStride USA, wherever you are!
Register for free today
!