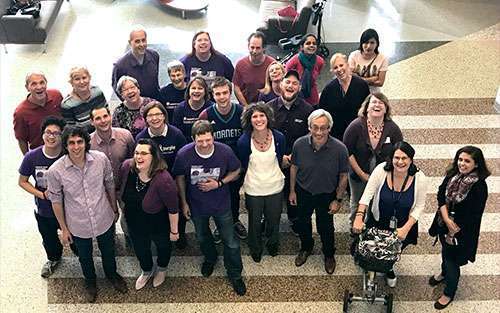 On a recent Saturday morning, the Der and Cox labs at the University of North Carolina at Chapel Hill were buzzing with energy. And it wasn't just because the researchers were busy tackling one of the biggest challenges in pancreatic cancer. It was because the labs had special visitors: more than a dozen volunteers from the Pancreatic Cancer Action Network's local affiliates.
"I lost both my mother and father-in-law to pancreatic cancer. To be affected by this disease and see groundbreaking research in action is an unforgettable experience," said Mark Weber, media relations chair of the Charlotte Affiliate. "The Charlotte and Raleigh-Durham Affiliates had a wonderful time touring the Der and Cox labs."
During their three-hour visit, the affiliates met members of the labs, toured the facilities and got a taste of their latest pancreatic cancer research. The Der Lab is funded by a $1 million Pancreatic Cancer Action Network – AACR Research Acceleration Network Grant.
The team's research hones in on the KRAS protein mutation, the most common genetic alteration in pancreatic tumors. They aim to develop novel drug combinations that attack the most significant protein signaling pathway activated by KRAS.
"It was energizing to have the volunteers visit the lab," said Channing Der, PhD, the Sarah Graham Kenan Professor of Pharmacology at UNC-Chapel Hill's Lineberger Comprehensive Cancer Center. "I enjoyed discussing our research with them, and I know we all share a commitment to increasing pancreatic cancer survival."
Many of the volunteers who visited have personal connections to pancreatic cancer. Four researchers in the Der Lab have lost family members to the disease.
"For the first few weeks after [my father's] diagnosis, I questioned whether I could do cancer research for the rest of my life," said Kirsten Bryant, PhD, a Pancreatic Cancer Action Network grant recipient and member of the Der Lab. "But as I watched everything that he went through and realized how few options are available for pancreatic cancer patients, that's what made me want to focus on pancreatic cancer. It's a wide-open field with a lot of progress to be made – and I felt I owed it to my dad to be a part of it."
The Der Lab's research represents the largest collection of chemical inhibitors ever assembled for anti-cancer drug testing against pancreatic cancer. To date, researchers have been unable to block expression or activity of the KRAS mutation, but Der knows that the biggest challenges can lead to the greatest advancements.
"The National Cancer Institute (NCI) and other government agencies provide the majority of cancer research funding in the U.S., but they typically fund 'safe' research," said Der, who is also a member of the Pancreatic Cancer Action Network's Scientific and Medical Advisory Board. "PanCAN funding is high-risk, high-reward—allowing us to take chances and try new ideas. It's the 'crazy' ideas that sometimes become the biggest breakthroughs.
"The volunteers who give their time, energy and financial support to the organization and to fighting this disease are making a huge impact for researchers like us – and, most importantly, for patients facing a pancreatic cancer diagnosis," he added.
Since 2003, we have awarded 142 grants to 143 scientists at 55 institutions, totaling $35.4 million. Learn more about the Der Lab's research, and join an affiliate near you.