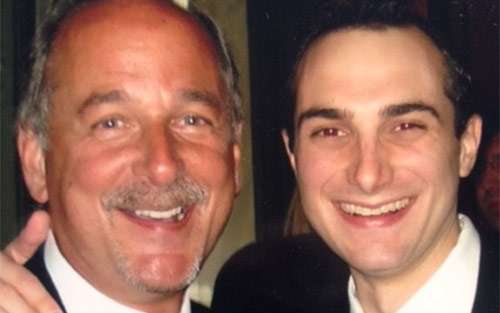 In the fall of 2011 I married Rebecca, my college sweetheart, and my father, Jeff, was my best man at my wedding.  I had always known he was going to be because he was my best man every day of my life.  He was my brother, role model, best friend… the guy I tried to emulate in every way.  He was a 59-year-old pediatric dentist in suburban Philadelphia. A pillar of good health, he exercised multiple times per week, didn't drink or smoke, and had no family history of diabetes or cancer. He took good care of himself and meant a lot to his family, friends, thousands of patients and countless peoples' lives who he has touched along the way.  I could never imagine my life without him, let alone being shockingly taken away from me as such a young age.
In May of 2012 he was diagnosed with adenocarcinoma, the most common form of pancreatic cancer.   He bravely and smartly chose to ignore chemo and radiation options that would not have helped him and he worked as a dentist up until two weeks before he died.  His diagnosis came out of nowhere, there is no early detection or symptoms of this disease, and in the snap of a finger he was given a death sentence.  Just six months later, after unsuccessful surgery, he passed away at home.
My life was cracked the day he was diagnosed.  And it was broken the day he died.  Absolutely nothing has been the same since, and in the three years since this all happened, the feelings and emotions are as vivid and terrorizing as ever.  Life is more fragile than I could have ever imagined.  It has been the greatest challenge and biggest tragedy of my family's life.
I originally met the wonderful Pancreatic Cancer Action Network community in the summer of 2012 after my father's diagnosis as a way of connecting with people who I could relate to.  I have tried to lend a helping hand over the last few years in a variety of areas as a means of giving back to the community of people who supported and continue to support me. In 2013, I became the Advocacy Chair for the organization at the New York City Affiliate.  And above all, our goal is to make a meaningful difference in the lives of families currently experiencing this awful disease and to ensure that the next generation does not experience the same hopeless diagnoses that are far too common in pancreatic cancer.   We demand progress.  It couldn't save my father, but we need to save the thousands who are faced with this cancer each and every year.  Advocacy, education, global awareness, scientific research – these are some pillars among many that are vital to real change.
There's nothing in it for me. It's about helping others. Everybody is in this cause for the right reasons. We care about this cause. Our hearts are in it. Dad would be proud.
Ethan Blum
Son, brother and husband
Advocacy Chair for the Pancreatic Cancer Action Network New York City Affiliate