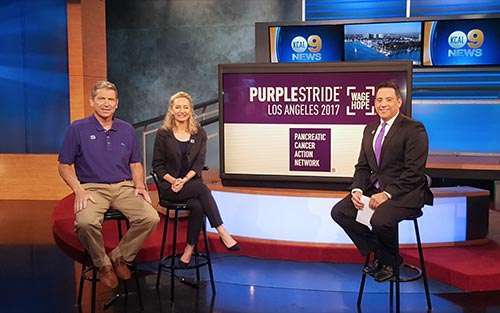 Update -- more PurpleStride in the news! Julie Fleshman, MBA, JD, our President and CEO, recently sat down with Tina Mica at KSWD 100.5 The Sound radio to discuss pancreatic cancer, our programs and the upcoming PurpleStride Los Angeles event taking place at Exposition Park this Saturday, May 6.
Tune in to Julie's in-depth interview here. Register for PurpleStride Los Angeles by visiting www.purplestride.org/la. Registration closes this Thursday at midnight.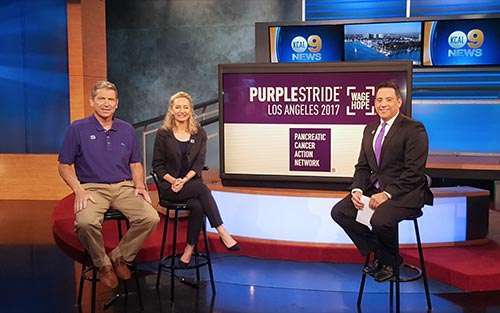 Julie Fleshman, JD, MBA, alongside pancreatic cancer patient John Biegel explained during an interview on KCAL-TV why it is so important that their local Los Angeles community get involved with PurpleStride.
Pancreatic cancer remains the nation's deadliest major cancer with a five-year survival rate of just 9 percent. We have an urgent mission at the Pancreatic Cancer Action Network (PanCAN) to improve outcomes for patients currently battling the disease and to double pancreatic cancer survival by 2020. But to accomplish this mission, we need your support at PurpleStride!
Each year, more than 80,000 people in cities across the U.S., Wage Hope at PurpleStride, the walk to end pancreatic cancer. Funds raised through this signature event support the organization's key initiatives, including Precision PromiseSM, Know Your Tumor® and the Patient Registry.
Funds raised at PurpleStride are also contributed toward research grants, which are critical to the advancement of pancreatic cancer treatments. Our organization has supported tens of millions of dollars in research grants to advance science and medicine that will improve outcomes for patients.
Watch the Interview
To find, register or donate to a PurpleStride near you, please visit purplestride.org. Together, we will improve patient outcomes and double pancreatic cancer survival by 2020.