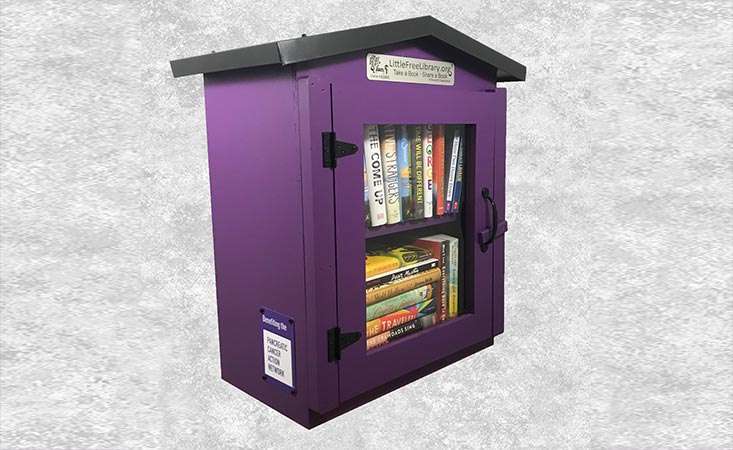 Have you made your holiday gift list yet? We've got suggestions about how to make your holiday gifting benefit the Pancreatic Cancer Action Network's (PanCAN) patients and families.
We are grateful for the significant, year-round support of our cause marketing partners, who generously donate a portion of their product sales to fund the vital services and programs of the Pancreatic Cancer Action Network (PanCAN).
Our cause partners represent such a variety of offerings, from jewelry to purple pens to great reads to well, just about everything you might need at AmazonSmile. As we approach the holidays, we're highlighting a few to say thank you for raising awareness and funds to fight pancreatic cancer.
Kym Jolstad founded Kathie's Coffee in honor of her mom who built her community and relationships over coffee, enjoying each cup and connection. Locally roasted, every bag purchased will generate a $3 donation to fight pancreatic cancer.
More than 100,000 Little Free Libraries can be found in 100+ countries, with millions of books exchanged annually. Little Free Library inspires a love of reading, builds community and sparks creativity by fostering neighborhood book exchanges around the world. Little Free Library has created a special PanCAN library and plaque and will donate $50 for each library and $15 for each plaque sold.
Dana Volk, owner and winemaker of Dana V. Wines in the Santa Ynez Valley, created a special wine in tribute to her mom's "spirit of eternal optimism, character and resilience." The 2017 HOPE, a blend of Tempranillo and Syrah, was introduced last year and Dana is donating 20% for each unit of HOPE wine sold.
Kate Furman is an artist and jewelry designer. Her mom, Linda, is also an artist and earlier this year, was diagnosed with pancreatic cancer. Kate designed the 'Love for Linda' pendant as a way of offering comfort for those affected by the disease and to raise funds for PanCAN. For each pendant sold, Kate will donate $30 to PanCAN.
And with the holidays just ahead, please remember that purchases through AmazonSmile will generate a donation of .05% on all eligible items. Since inception, we've received more than $82,000 from your purchases – and the most recent donation received was the largest ever!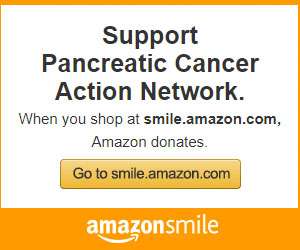 Don't forget to Shop Purple! Our online marketplace has some great new items that would make perfect stocking stuffers, like the PanCAN face mask or rain poncho. Or there are the classics, like our Awareness purple boa, or the Fight Pancreatic Cancer Tie Dye t-shirt. You'll find something for everyone who's passionate about purple at Shop Purple.
A profound way to mark the holidays is to honor someone with a gift to PanCAN in their name. When you make a tribute or memorial donation, you create a legacy of hope, furthering our vision to create a world in which all patients with pancreatic cancer will thrive.
Thank you to our generous Cause Marketing partners and thank YOU, our passionate supporters, for making sure our partners know how vital these programs are to the pancreatic cancer community.