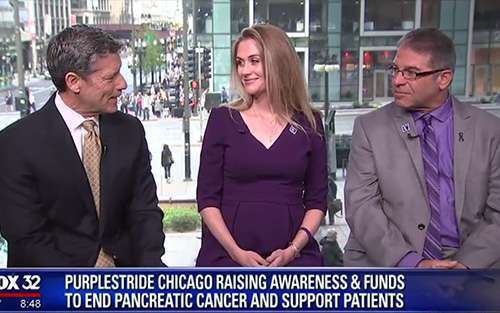 Erin Robertson, wife of Chicago White Sox pitcher, David Robertson, sat down with FOX 32 morning news anchor Corey McPherrin yesterday to talk about the upcoming PurpleStride Chicago event taking place at Soldier Field on April 29.
Erin lost her father to the disease exactly one year ago, just nine months after diagnosis. She was joined by the media relations chair of our Chicago Affiliate, Frank DeSeno, who lost his brother and wife to the disease.
David and Erin Robertson teamed up with the Pancreatic Cancer Action Network in 2009 and they have since been vocal within their community, raising awareness and funds for our nation's toughest cancer.
Watch the Interview
Erin also had the opportunity to speak about her and David's involvement with PanCAN during ESPN 1000's Chicago GameNight with host, Jonathan Hood. Learn more about what the Robertson's are doing to improve outcomes for patients and double survival by 2020 by listening to the interview.
PurpleStride Chicago, the walk to end pancreatic cancer, is one of 55 awareness events held annually by PanCAN. Fans and friends can join Erin, who is serving as a special guest speaker, and her son Luke at Soldier Field this Saturday.
Register to attend PurpleStride Chicago today! Use code DROB for 20 percent off online registration, which closes at midnight. Learn more about the event by visiting purplestride.org/chicago.
PurpleStride and community events have contributed more than $87 million to the cause from 2008-2016.