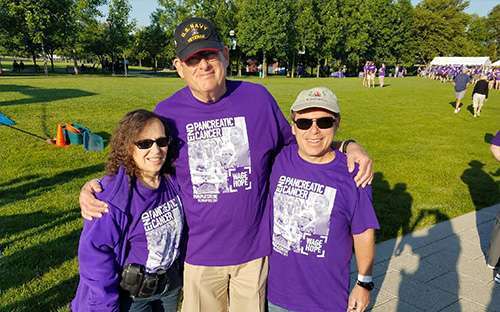 When Mike Blacconiere pulled up to PurpleStride Indianapolis last month, ready to walk to end pancreatic cancer, he was more than ready to stretch his legs. Having come from his home state of Illinois was a long distance, after all.
But Blacconiere was especially ready to be there because he had ridden his bike the whole way instead of driven.
That's right – the whole 200 miles. The whole 19-plus hours. The whole three days.
And it wasn't his first ride to Stride, nor his longest. It was his shortest, in fact.
He and his cycling partner, Marty Lampert, 72, have done three long-distance bike rides to PurpleStride over the past few years. They rode from Illinois to Minneapolis in 2012 for PurpleRideStride and from Illinois to Pittsburgh in 2015 for PurpleStride. In total, they've logged almost 3,000 miles in 10 rides.
The two met 17 years ago during a charity bike ride for AIDS, Blacconiere said.
"I could see and feel that being part of the AIDS ride meant being part of a movement. I had seen the progress being made in the fight against AIDS and it stuck with me. Years later, I knew I wanted to do the same thing for pancreatic cancer."
That's because his brother, Walt, had pancreatic cancer and passed away 10 years ago.
The Blacconiere family has supported our organization since Walt's diagnosis. "We read about PanCAN and its comprehensive approach – from advocacy to research to patient services – and knew we wanted to support that work. The four-star Charity Navigator rating is also impressive."
His mother supports the cause, too, as does his sister, Mariann.
"Mariann helps plan our routes and drives the route with Marty and me with our food, safety gear, etc. There are always unforeseen circumstances – bad weather, flat tires – so we have to be prepared for anything. Finding the time to train is the biggest challenge, though."
It's all worth it, he said. When the two arrived at PurpleStride Indianapolis on June 3, ready to walk the 5K on Team Walt, he was reminded of why he rides to Stride.
"PurpleStride brings us together to raise awareness. It's tough to see so many who have lost loved ones, but it's good to see so many supporting this cause."
Read Blacconiere's letter to donors who supported his participation in PurpleStride Indianapolis, and get more details on his ride.
Participate in PurpleStride, the walk to end pancreatic cancer. And you can drive there – you don't have to bike!