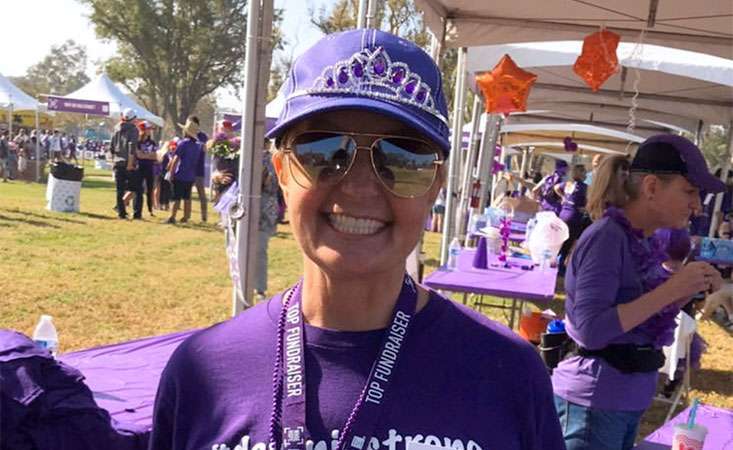 "I am strong and I will survive." – Dawnie Campbell, one-year pancreatic cancer survivor
World Cancer Day on Tuesday, Feb. 4, is a global initiative to raise awareness, improve education and inspire action in order to prevent cancer death and provide access to lifesaving cancer treatment and care for all people.
In recognition of the day, we took to social media to ask our supporters to fill in the blanks of the sentence, "I Am … and I Will …", which is the theme of World Cancer Day. (The sentence, according to WorldCancerDay.org, is about "your story and your commitment" to take action in the fight against cancer.)
We were moved and inspired by the many responses we received.
Here are just a few:
"I am unbreakable and I will fight," said Violet Solorio of California, who lost her boyfriend, Dennis Melendez, to pancreatic cancer on Dec. 11, 2019. He was only 39 years old.
Andrea Bauer-Kuczma of Pennsylvania, who lost her mother in 2006 to pancreatic cancer, has been a volunteer leader for the Pancreatic Cancer Action Network (PanCAN) for more than a decade. She said, "I am an advocate and I will never stop raising awareness."
Erin Hedges of Missouri hosts 5K walks in memory of her grandfather to bring awareness to the cause and honor pancreatic cancer survivors. Hedges said, "I am motivated and I will soar."
From Indiana, University of Notre Dame graduate student Katie Morris, who is studying pancreatic cancer treatments, said, "I am a researcher and I will work my hardest to develop a more effective treatment."
Another student, Aylin Uncu of New Jersey, was compelled to answer because her father is a stage III pancreatic cancer survivor. She said, "I am a student planning on going into clinical research and I will fight for better treatments for patients."
And Karyn Valenzuela of California, said, "I will keep supporting my mother who has stage IV pancreatic cancer. She is a warrior."
Amy Huttlinger's father died of pancreatic cancer in September 2018. From California, she completed the statement saying, "I am hopeful and I will support the fight to find a cure."
From Virginia, Letitia Park filled in the blanks – her brother died of pancreatic cancer. She said, "I am changed and I will educate."
Teen advocate Ali Chesnick of New Jersey has been involved with PanCAN for many years – she lost her grandfather to the disease in 2013. She said, "I am a team captain for PurpleStride Philadelphia and I will continue to raise money and awareness."
Ashley McMahan's best friend died of pancreatic cancer in 2012 at 34 years old. She said of her experience, "I am a caregiver and I will keep fighting for you!"
World Cancer Day, in its 20th year, reminds the world that 9.6 million people die each year from cancer – more than HIV/AIDS, malaria and tuberculosis combined. The website goes on to say that, "By 2030, experts project cancer deaths to rise to 13 million, if we don't act."
In 2020, an estimated 47,050 Americans will die of pancreatic cancer – the third leading cause of cancer-related death in the United States.
Here are three things you can do today to change the statistics:
Donate to PanCAN.
Wear purple and share a picture on social media using #PanCAN, #IAmAndIWill and #WorldCancerDay.
Fill in the blanks of "I Am … and I Will …" on social media, telling the world your story and your commitment in the fight to end the disease. Tag #PanCAN, #IAmAndIWill and #WorldCancerDay. 
Join the fight
against pancreatic cancer by getting involved in your community today.