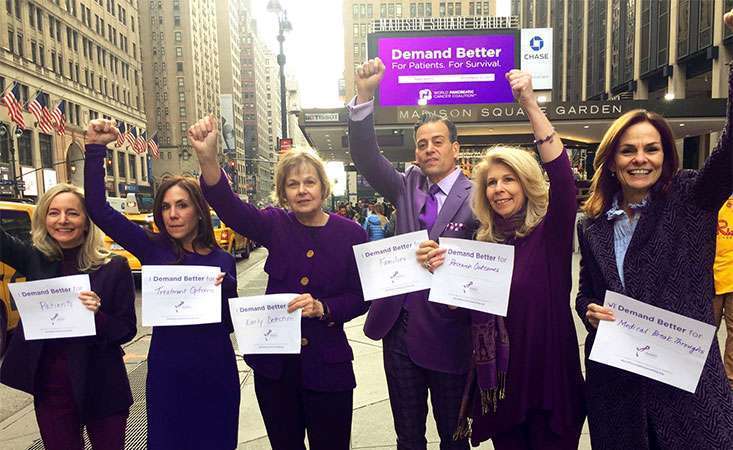 Are you seeing purple? Thursday, Nov. 16, is World Pancreatic Cancer Day, and it's being observed around the globe to raise critical awareness of the disease, as well as inspire people to take action and Demand Better. For Patients. For Survival, starting with earlier diagnosis.
Renowned monuments in the United States and abroad are bathed in purple, national and international news media interviews are filling the airwaves, television news anchors are wearing purple, PanCAN volunteers are hosting Purple Parties to raise funds, and companies are championing the cause. Pancreatic cancer researchers are in the spirit, donning purple gloves and taking time out from the lab to pose for photos, and social media posts are abundant with talk of World Pancreatic Cancer Day. People who have been affected by the disease are sharing their stories and photos. Congressional leaders on Capitol Hill are sporting their purple, too.
World Pancreatic Cancer Day is an initiative of the World Pancreatic Cancer Coalition (WPCC), and PanCAN is a proud member. The WPCC is a global alliance uniting more than 60 pancreatic cancer organizations and advocacy groups from 27 countries on six continents who collaborate for the collective good of all affected by the disease.
PanCAN President and CEO Julie Fleshman, JD, MBA, serves as chair of the WPCC Steering Committee. In a new video, she and other leaders from the WPCC share why they Demand Better.
The goal this year is to drive awareness of the symptoms and risks of pancreatic cancer and the urgent need for earlier diagnosis to improve patient outcomes. There is currently no screening test or early detection method for pancreatic cancer, and though research is being conducted in these areas, knowing the symptoms and risks remains the key to early diagnosis. Research shows that patients diagnosed in time for surgery are more likely to live five years or beyond.
Every day, more than 1,000 people worldwide will be diagnosed with pancreatic cancer, and an estimated 985 will die from the disease.
Please join others around the world and Demand Better. For Patients. For Survival. Learn more at worldpancreaticcancerday.org.