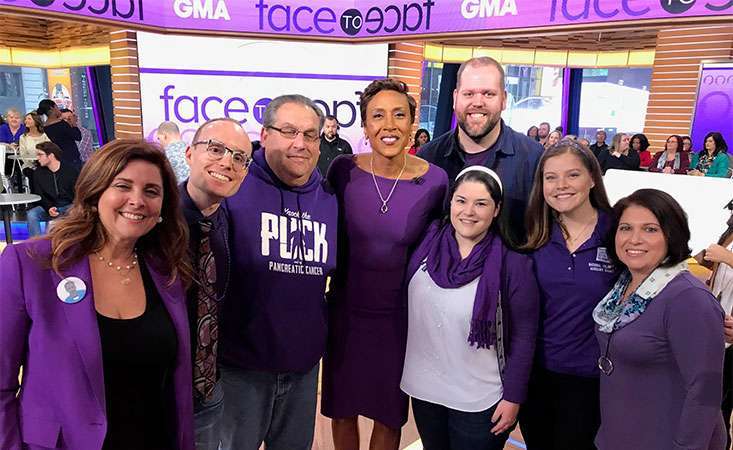 Throughout November, Pancreatic Cancer Awareness Month, the world turned purple in an effort to raise critical awareness of pancreatic cancer, as well as inspire people to take action and Demand Better. For Patients. For Survival, starting with earlier diagnosis.
From Australia to Canada and London to South Africa, iconic buildings turned purple and news outlets – broadcast, radio, online and print – helped raise awareness of the symptoms and risks associated with the world's toughest cancer.
The United States was no exception. Pancreatic Cancer Action Network (PanCAN) President and CEO Julie Fleshman, JD, MBA, along with countless survivors and volunteers secured interviews for Pancreatic Cancer Awareness Month, World Pancreatic Cancer Day and PurpleStride, the walk to end pancreatic cancer!
Here is a recap of some of the most memorable interviews from World Pancreatic Cancer Day:
This momentum could not have been achieved without PanCAN's nationwide grassroots army of dedicated volunteers. Volunteer leaders from across the country secured over 60 interviews with their local media outlets. In addition, they were able to encourage over 130 on-air talent, anchors and reporters, to wear purple and share their support on social media.  Additionally, dozens of celebrities and influencers raised their voices in solidarity of the day including Mindy Kaling, Lisa Niemi Swayze and Erin Willett.
To top things off, the NASDAQ opening bell ceremony will turn purple today as our New York Affiliate rings the bell between 9:15 a.m. to 9:30 a.m. ET.
There's still time to support Pancreatic Cancer Awareness Month. Learn more about the symptoms and risks associated with pancreatic cancer by visiting pancan.org/demandbetter.