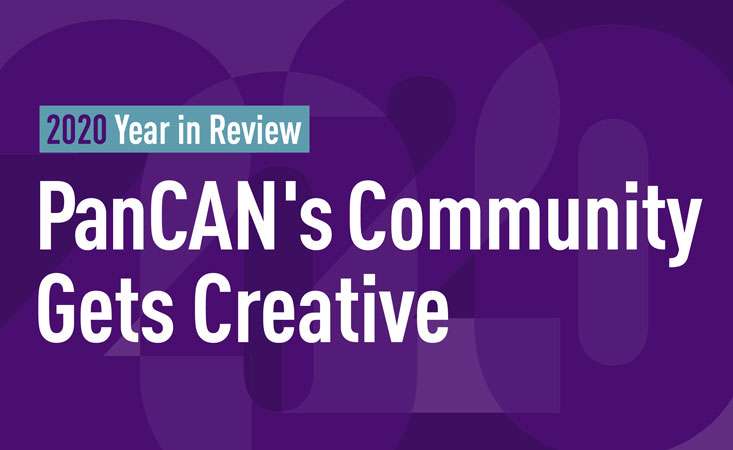 Nothing stops the Pancreatic Cancer Action Network (PanCAN) community from taking action against pancreatic cancer. And in 2020, we saw how powerful you are.
From pivoting to virtual PurpleStride without missing a step to enthusiastic personal fundraising through Wage Hope My Way and Facebook, you masked up, socially distanced and put your purple passion on full display. Our committed volunteer leaders continued moving forward with important training and development via our virtual PanCAN Academy series and ongoing Zoom Affiliate meetings and strategizing.
We are grateful for our PanCAN family — volunteer leaders and all our volunteers, PurpleStride and Wage Hope My Way fundraisers, and every person in every community who works to raise awareness all year round.
This year is full of inspiring and creative participation. Of special note are the 11 November PurpleStride events, which are currently a cumulative 123% over goal and still climbing!
When PurpleStride Kansas City went virtual, the family of Walter White, famed tight end for the Kansas City Chiefs, was disappointed, but immediately on board. "In reality, we ended up having more people walking with us than we probably would have in person in Kansas City!" said daughter Whitney.
Team #www88Walk for Walter and the White family were thrilled with the reach of the virtual experience. "I had friends I had not talked to at all posting pictures or donating in the last couple of days because they'd seen other friends of mine post about it!" said Whitney. "I think being mindful of the power of social media especially during a time like this helped us."
At PurpleStride Jacksonville, 12-year survivor Bonnie Dvoravic and husband Frank, long-time PanCAN supporters, had their best fundraising year ever, ending up as the #1 fundraising team. Team Bonnie's Freebirds ended at a whopping 158% over goal. Owners of Rivertown Fine Wine & Spirits, Bonnie and Frank do auctions of rare, hard to find liquors to fundraise.
Aly and Blake Feely also went big in 2020, creating a team for PurpleStride Boise, in honor of their grandfather, 'Pa.'
"I called him 'Pa' Parazzi because my Pa never missed a cheer competition or any of my cousins' events," wrote Aly on Team Finke's Fantastic Fans page. Fantastic was her 'Pa's' favorite word and Aly wrote that even if you asked him how he was on his worst days of chemo, he would always say, "Fantastic!" Not only did Aly and Blake end up more than $10,000 over their $20,000 goal, but PurpleStride Boise was at 202% of event goal!
On the Wage Hope My Way Front, the Gutmann family has been doing Pancakes for PanCAN to raise funds for 14 years. This year, they had to cancel the breakfast, but that didn't stop them from finding colorful ways to spread awareness and raise funds. Partnering with local salon Evolve and with a boost from local radio host and friend Dan Austin, the Gutmann family put together a November plan that included donations for anyone who had a purple streak added to their hair, or in Dan's case, goatee.
The Trivedi and Vyas family created a profound Wage Hope My Way tribute page to their wife, mother, daughter and sister, Preeti Trivedi Vyas, to express their gratitude to PanCAN for the support they had received. Preeti was a licensed nurse practitioner, who had heard about PanCAN through some of the patients she cared for. Preeti herself was diagnosed with pancreatic cancer in 2019. In search of a clinical trial, Preeti reached out to one of her patients for the number to PanCAN Patient Services. The families' tribute honors Preeti's wish, that PanCAN continues to do its great work.
Run three miles every hour for 24 hours straight? That's what Chicagoan Paul Sharp did to raise funds in memory of his father. Before he started, Paul wasn't sure he could do it – but his results showed that his doubts were vastly misplaced.  He set a goal of $5,000 and raised nearly $8,400, and already has plans for 2021.
"People are awesome," said one of Paul's posts to the Chicago PanCAN Facebook group. And we agree!
You have done such incredible and meaningful work this year, in the face of historic challenge. All of PanCAN's progress is because of you – we are grateful for your passion and energy every single day.