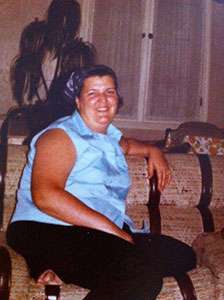 It was New Year's Eve, and my family and I were getting ready to celebrate a new year – 2002 was going to be our best year yet! My dad was having a party, and I was excited to see family members that I hadn't seen in a long time.
But the moment my Aunt Elaine walked through the front door, my stomach turned sour, and I knew this was not going to be a fun celebration. She looked dreadful. She was gaunt and jaundiced, but more shocking than anything – and what will stick with me forever – was the look in her eyes. Her eyes were vacant. Absent. Almost ghostly. Something was very wrong.
To those who saw my aunt every day, they must have become used to seeing her unwell. To those who hadn't seen her in months, we knew she needed immediate medical attention. The next day she checked into the emergency room, and shockingly, she never checked out. A week later, she passed from pancreatic cancer. We were all in complete and utter disbelief. We were holding out hope that she would get better, that she would return home. It wasn't until the doctors told us that her kidneys were shutting down that we really understood what was happening. In fact, it all happened so fast that my cousin Joe didn't even make it home in time to say goodbye to his mother. That was unacceptable.
Aunt Elaine had diabetes and saw doctors regularly for ongoing treatment. She had been complaining to them about the digestive issues she was having and her lower back pain for a couple of years. Mind you, she lived in Southern California – not in the middle of nowhere in a tiny little town. But her doctors never even considered that pancreatic cancer could be the problem.
The trouble is – as an employee of the Pancreatic Cancer Action Network 14 years later – I still hear similar stories today. Again, unacceptable.
While I was with my former employer about five years ago, I had the pleasure of hearing the Pancreatic Cancer Action Network President and CEO Julie Fleshman speak at the annual Social Capital Conference. I was immediately inspired by her poise, her leadership, her strategic thinking and by her ability to convey in a meaningful and measurable way the impact that the Pancreatic Cancer Action Network was having on its patient population. When she shared her Vision of Progress to double survival for pancreatic cancer by 2020 – I knew I wanted to work for her and for this organization. Of course, I also wondered why the organization was such a well-kept secret! If only the doctors treating my Aunt Elaine had come to know the organization and come to understand that pancreatic cancer should have been considered as a possible diagnosis…
And that is precisely what gets me out of bed every morning with an extra skip in my step as I take on another day in this dogged fight. Through my impassioned work, I have come to know numerous pancreatic cancer patients and their families, and I am motivated by each and every one of them every day…but my heart will always be in it first for Aunt Elaine. We miss you.
Donna DeDario Manros
Director, Strategic Partnerships
Pancreatic Cancer Action Network