My brother, Jeff, and I were five years apart. When you're 8 and your brother is 13, you want his world in yours. The cool teen with the cutest friends!
Although we weren't very close while growing up he was always my hero. My incredibly smart, handsome and funny older brother could do everything! As we grew older, we found that we had a lot in common and the difference in our ages gradually disappeared. Eventually, we became the closest of friends. I loved my brother very much.
Jeff was 50 when he was diagnosed with a "gallbladder" problem. However, when he went in for surgery, the doctor found that it wasn't his gallbladder, but his pancreas. None of us even knew what a pancreas was. Was it kin to the appendix? What purpose did it serve? Sadly we learned more than we could have ever imagined about this insidious six inch gland buried deep within the body. But, my brother was one of the fortunate ones. In October of 2000 he was able to have the Whipple procedure to remove a cancerous growth from the head of his pancreas. He recovered and eventually went back to work and living his life again.
He was feeling so well that in July 2001 the family planned a vacation in Europe to celebrate his recovery and leave all the medical issues far behind. In October 2001, the cancer returned with a vengeance. I quit my job to spend precious time with Jeff and his family. Pancreatic cancer is an insidious cancer, as they all are, but this form of the disease has almost demonic qualities in how it ratchets up the pain to incomprehensible levels. It was unimaginable for me to see my brother suffer so much. I promised him that I would do whatever I could to make a difference in fighting this disease. On March 18, 2002, pancreatic cancer took Jeff: Rachael and Ben's dad, Lyn's husband, my mom's son, and my personal hero. And amidst my grief I had to figure out how to keep a sacred promise.
I had been marketing high- technology products and services for some of the largest and most successful software companies in the world. I had no idea how to translate that experience into something that could really make a difference, something meaningful, something with impact. How was I going to keep my promise to my brother?
We had heard about the Pancreatic Cancer Action Network as my brother and his wife had attended a pancreatic cancer symposium hosted by the organization. It was extremely informative and helpful. Months after Jeff's passing, I called the organization many, many times asking if I could come in the headquarters office, which, at the time was in El Segundo, Calif., to volunteer my time. I was willing to file, sort, stuff, type, anything they needed. I figured this was a small step towards fulfilling my promise. Each time I was to come in to volunteer, I cancelled that morning. I just wasn't ready "to be around" pancreatic cancer. I probably cancelled about 7-8 times, before I stopped calling to volunteer altogether. I felt terrible. But I just was not ready.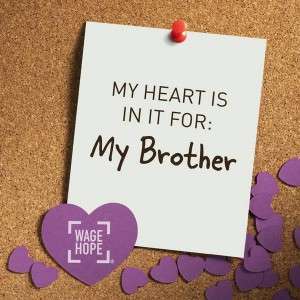 Fast forward four years later to 2006. I was given the opportunity to move to the Pacific Northwest and work for Microsoft. I had been working for them in Los Angeles. However, I decided not to relocate. I wasn't ready to leave my brother's family or my mom. Or, ask my husband and son to move so I could continue to market software, which seemed more and more mundane.
A month after I made my decision to stay in Los Angeles, I realized I was going to be able to keep my promise to my brother to fight pancreatic cancer. It was quite a remarkable situation.
I discovered a job posting late one night on Monster.com for the Pancreatic Cancer Action Network. It was for the role of Director of Marketing and Communications. It was September 2006 when I was hired. I am now in my 10th year and manage all aspects of our brand and creative execution. I love what I do and I continue to honor my brother each day.
On the day I accepted the position with the Pancreatic Cancer Action Network I drove home with incredible excitement and a sense of pride. I knew I had found my place. I knew this was the work I was meant to do. As I drove up my driveway and got out of the car, I looked at my neighbor's front lawn, and there, all by itself, lay a single purple balloon. Truly a sign from my brother celebrating my new job and my promise to help change the future of this disease.
Lisa Gilmour
Brand and Creative Officer
Pancreatic Cancer Action Network