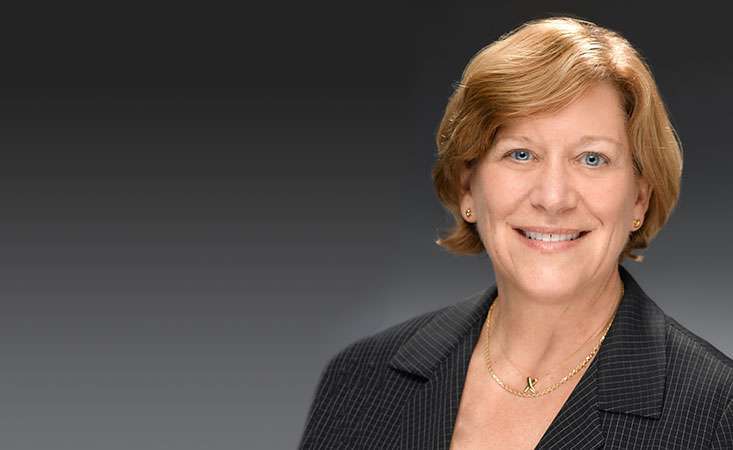 Manhattan Beach, CA – (Updated May 4, 2016) — The Pancreatic Cancer Action Network is proud to announce Lynn Matrisian, PhD, MBA, as inaugural Chief Research Officer for the organization. Matrisian was promoted from Vice President of Scientific and Medical Affairs, where she has served since 2011.
"To meet our aggressive goal to double survival by 2020, we must expand our scientific and clinical endeavors," said Julie Fleshman, JD, MBA, President and CEO of the Pancreatic Cancer Action Network. "Lynn's vast knowledge of the organization will drive change for this deadly disease and move us closer to our goal."
In her expanded role as Chief Research Officer, Matrisian will develop initiatives designed to transform pancreatic cancer outcomes, a disease with a five-year survival rate of just 8 percent. These initiatives include early detection approaches and the creation of novel biomarker-driven clinical trials.
Prior to joining the Pancreatic Cancer Action Network, Matrisian led a research laboratory dedicated to understanding cancer metastasis. She has published more than 220 original scientific articles and trained more than 30 young scientists.
Matrisian was the founding chair of the department of cancer biology in the School of Medicine at Vanderbilt University, President of the American Association for Cancer Research (AACR) and a special assistant to the director of the National Cancer Institute at the National Institutes of Health. She earned a PhD in molecular biology from the University of Arizona and an MBA from the Owen Graduate School of Management at Vanderbilt University.
From 2003 to 2015, the Pancreatic Cancer Action Network has funded more than $28 million in research grants to 122 scientists at 51 leading institutions nationwide and is currently awarding an additional $6.8 million in funding through its 2016 grants. PanCAN Patient Services Case Managers have served over 100,000 contacts by providing clinical trials information, treatment options and hope to those fighting pancreatic cancer.
Learn more about the Pancreatic Cancer Action Network by visiting /.
Follow the Pancreatic Cancer Action Network on Twitter, Instagram or Facebook.
# # #
About the Pancreatic Cancer Action Network
The Pancreatic Cancer Action Network is the national organization creating hope in a comprehensive way through research, patient support, community outreach and advocacy for a cure. The organization is leading the way to increase survival for people diagnosed with this devastating disease through a bold initiative — The Vision of Progress: Double Pancreatic Cancer Survival by 2020. To continue to accelerate progress, a goal to raise $200 million by 2020 is also in place. Together, we can Wage Hope and rewrite the future of pancreatic cancer.
MEDIA INQUIRIES ONLY CONTACT:
Cara Martinez
Senior Manager, Public Relations
Pancreatic Cancer Action Network
Direct: 310-706-3357
Email: cmartinez@pancan.org

ALL OTHER INQUIRIES, PLEASE CALL THE PANCREATIC CANCER ACTION NETWORK AT 877-272-6226 OR EMAIL INFO@PANCAN.ORG.