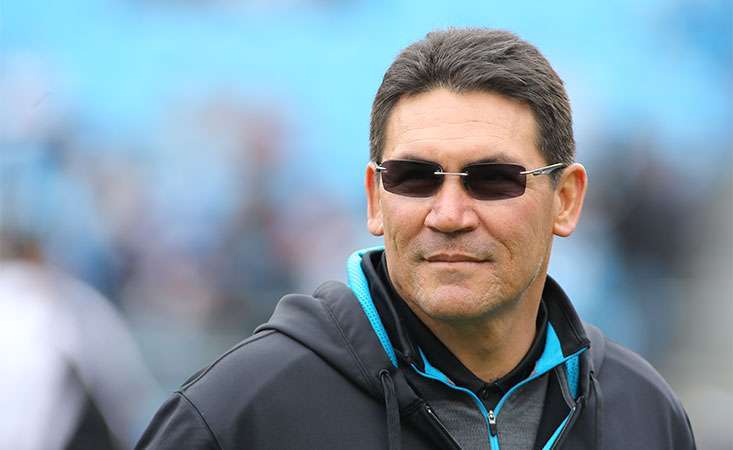 MANHATTAN BEACH, Calif. – (Sept. 1, 2016) – Head Coach of the Carolina Panthers and two-time NFL Coach of the Year Ron Rivera has partnered with the Pancreatic Cancer Action Network to honor his brother, who died from pancreatic cancer in 2015 at the age of 56. 
"My brother Mickey was my first and best teammate," Coach Rivera said. "Partnering with the Pancreatic Cancer Action Network allows me to not only honor my brother, but to take action against this deadly disease. Pancreatic cancer kills more people than breast cancer, but without the support of people willing to take action, we will continue to lose our loved ones and biggest champions."
Pancreatic cancer has a five-year survival rate of just 8 percent and recently surpassed breast cancer to become the third leading cause of cancer-related death in the United States.
Coach Rivera, who is actively involved with the volunteers of the Charlotte Affiliate of the Pancreatic Cancer Action Network, serves as the "honorary starter" for the PurpleStride Charlotte walk/run.
PurpleStride is the Pancreatic Cancer Action Network's signature 5K event that takes place across the country to raise awareness and funds to advance research, support patients and create hope.
Rivera also recently filmed a Public Service Announcement for PurpleStride, encouraging people from across the country to participate in their local event.
"I encourage everyone to get involved with their local PurpleStride event," Coach Rivera said. "PurpleStride means a great deal to me and I walk away from the event feeling closer to my brother. There is nothing like seeing a sea of purple and thousands of people dedicated to tackling pancreatic cancer."
To register for your local PurpleStride, please visit www.purplestride.org. To learn more about Coach Rivera's involvement with the Pancreatic Cancer Action Network, please visit www.pancan.org/ronrivera.
The sports community has lost several prominent athletes and coaches to pancreatic cancer, including Chuck Daly, NBA Hall of Fame coach who also served as coach of the 1992 Olympic Dream Team; Gene Upshaw, former NFL Hall of Fame offensive guard for the Oakland Raiders and president of the NFL Players Association, and recently, Roger Chanoine, a former Cleveland Browns offensive tackle who died this year at the age of 39.
Follow the Pancreatic Cancer Action Network on Twitter, Instagram or Facebook.
# # #
About the Pancreatic Cancer Action Network
The Pancreatic Cancer Action Network is the national organization creating hope in a comprehensive way through research, patient support, community outreach and advocacy for a cure. The organization is leading the way to increase survival for people diagnosed with this devastating disease through a bold initiative — The Vision of Progress: Double Pancreatic Cancer Survival by 2020. To continue to accelerate progress, a goal to raise $200 million by 2020 is also in place. Together, we can Wage Hope and rewrite the future of pancreatic cancer.
MEDIA INQUIRIES ONLY CONTACT:
Chastidee Davis
Manager, Public Relations
Pancreatic Cancer Action Network
Direct: 310-706-3376
Email: cdavis@pancan.org
ALL OTHER INQUIRIES, PLEASE CALL THE PANCREATIC CANCER ACTION NETWORK AT 877- 272-6226 OR EMAIL INFO@PANCAN.ORG.