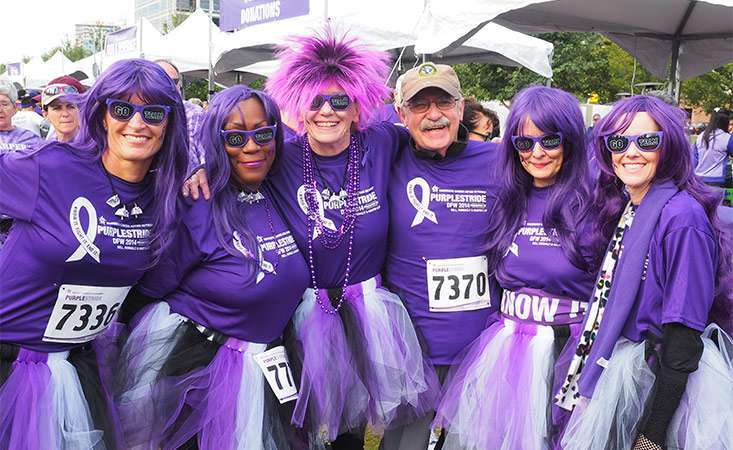 PurpleStride Supports the Pancreatic Cancer Action Network's Urgent Mission to Save Lives, Double Survival by 2020
DALLAS, TX (Oct. 24, 2018) – Thousands will walk to end pancreatic cancer, the world's toughest cancer, at PurpleStride DFW on Nov. 10 in Dallas. The community event, celebrating its 10th year, is presented by Bell Nunnally and is hosted by the Pancreatic Cancer Action Network (PanCAN) Dallas/Ft. Worth Affiliate.
"I've seen the survival rate for pancreatic cancer increase over the years," said Christopher B. Trowbridge, Partner and Chairman of the Litigation Section at Bell Nunnally, a Dallas-based law firm of more than 60 attorneys offering a diverse, business-focused range of client services. "The funds we've raised have had a direct impact on research being done, which in turn leads to more survivors. From an investment standpoint, the return is high and deeply meaningful."
Pancreatic cancer is the third leading cause of cancer-related deaths in the U.S. with a five-year survival rate of just 9 percent. In order to save lives and double survival by 2020, PanCAN urges the DFW community to join PurpleStride. Funds raised through the event support critical research, clinical initiatives and patient services, including Know Your Tumor®, Precision PromiseSM,  Clinical Trial Finder and the Patient Registry.
Beverly Jackson, volunteer Mission Chair of the PanCAN DFW Affiliate, lost her husband Mark to pancreatic cancer after a 15-month battle. A short five years later, her sister Sharon also received this dreadful diagnosis. She lost Sharon as well after a battle of almost a year. Jackson has now made it her personal mission to change the dire statistics.
"After five doctors and five months of unexplained pain and illnesses, we finally got a pancreatic cancer diagnosis for Mark," Jackson said. "We were told to get our affairs in order and to not waste time with clinical trials. After Mark's death several years later, my sister Sharon was diagnosed with pancreatic cancer. My heart broke the day we received the prognosis. It is my commitment to continue this fight in whatever way I am able to until something really changes – changes in a BIG way – with early detection and screening tests, better treatments and eventually, a cure."
PurpleStride DFW will take place at Klyde Warren Park and will be hosted by award-winning CBS 11 Senior Investigative Reporter Ginger Allen. The event is supported by national presenting sponsor Celgene, presenting sponsor and recipient of our Corporate Community Advocate Award Bell Nunnally, national gold sponsors AbbVie and Ipsen, gold sponsor Methodist Digestive Institute and silver media sponsor the Ed Haggar Family Foundation.
To register, donate or learn more about PurpleStride DFW, visit purplestride.org/DFW.  
To learn more about PanCAN and its signature walk PurpleStride®, watch the PurpleStride PSA and the History of PanCAN. Follow PanCAN on Twitter, Instagram and Facebook.