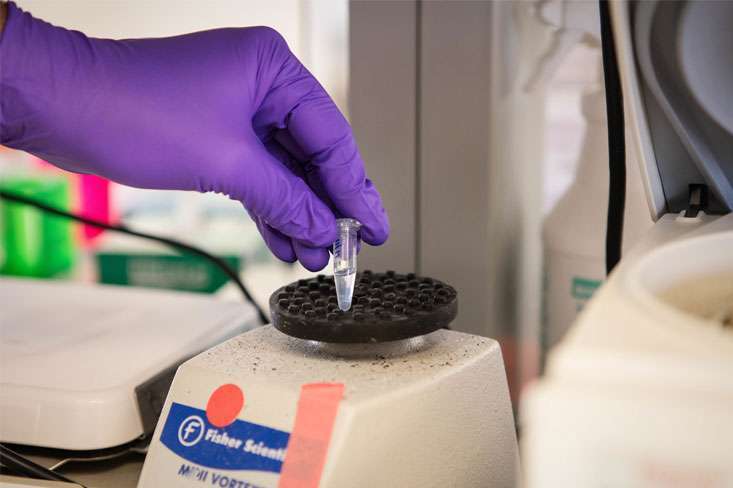 With the Identification of Six Genetic Mutations, Authors Urge Genetic Testing for All Pancreatic Cancer Patients – Not Only Those with a Family History
Manhattan Beach, Calif. – (June 19, 2018) A study published today in the Journal of the American Medical Association (JAMA) identified six genetic mutations found in pancreatic cancer patients that can be passed down in families, significantly increasing an individual's risk of developing pancreatic cancer. Researchers found the genetic mutations in both patients with, and without, a family history of the disease – therefore urging genetic testing for all patients as a new standard of care.
"This study could change the practice of pancreatic cancer and has broad implications not only for patients, but for their families," said Lynn Matrisian, PhD, MBA, chief science officer at the Pancreatic Cancer Action Network (PanCAN), who was not involved in the study. "The findings suggest all people diagnosed with pancreatic cancer should have genetic testing, not just patients with a personal or family history of cancer, because it's more common to have a genetic alteration than originally thought."
After genetic testing, affected family members could enroll in a screening program if considered high-risk. Prior to this study, little was known about identifying which patients were at risk for heritable genetic links to pancreatic cancer, a disease with a five-year survival of just 9 percent.
According to a release from Mayo Clinic, the study involved 3,000 pancreatic cancer patients who were seen at Mayo Clinic between 2000 and 2016. The test results of 21 cancer genes were compared to similar results from more than 123,000 patients without pancreatic cancer. The study found six genes clearly linked to an increased risk of pancreatic cancer: BRCA1, BRCA2, CDKN2A, TP53, MLH1 and ATM. These genetic mutations were identified in 5.5 percent of all pancreatic cancer patients, including 5.2 percent of cancer patients without a family history of pancreatic cancer.
"Identifying individuals at high risk for pancreatic cancer can help establish better early detection strategies, a key priority for us at PanCAN and for the research community," Matrisian said. "It's important to note that not everyone who has these mutations will develop pancreatic
cancer, but the researchers' findings suggest a value to monitoring these affected individuals through screening programs."
The information gathered from all genetic testing may also benefit the patient. For example, BRCA mutations have been associated with an improved response to certain types of treatment, so that information can allow a precision medicine approach.
Matrisian added, "We strongly recommend all pancreatic cancer patients to undergo molecular profiling of their tumor, so adding germline testing can enhance the information gathered about that patient's disease, their treatment options and how their relatives may be affected as well."
Patients can learn more about pancreatic cancer risks, precision medicine, as well as receive free, in-depth and personalized resources and information on the disease through PanCAN Patient Services. Follow the Pancreatic Cancer Action Network on Twitter, Instagram and Facebook.