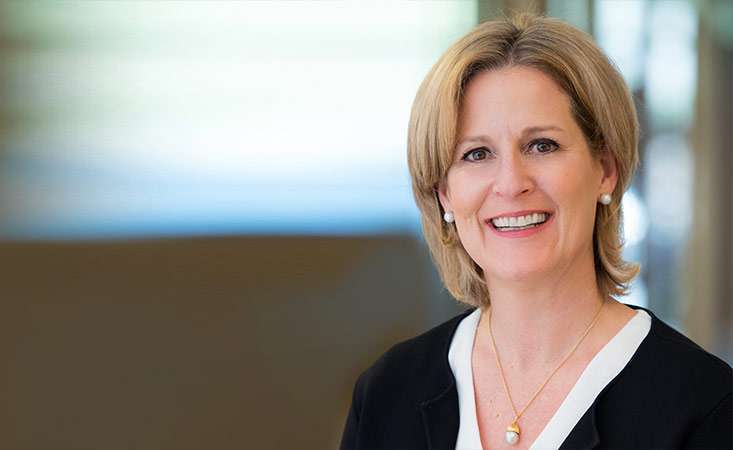 Strategic Leadership Will Support Innovation and Accelerate Progress for Pancreatic Cancer Patients
MANHATTAN BEACH, Calif. (Aug. 4, 2020) – The Pancreatic Cancer Action Network (PanCAN), a leading patient advocacy organization, announced today its new board of directors chair, Hilarie Koplow-McAdams, and vice chair, Karen Young, CPA, as well as the addition of two new members, Dennis Cronin and Nancy Stagliano, Ph.D. Jeanne Ruesch stepped down from the PanCAN board after providing outstanding leadership as the chair for the last four years.
PanCAN's board of directors comprises dedicated individuals who are leaders professionally and in their communities with a broad range of expertise, including business, higher education, fundraising, policy, legal issues, finance and board governance. Each member has been personally touched by pancreatic cancer and is committed to working to accelerate progress.
Stepping into the role of board chair is former vice chair Hilarie Koplow-McAdams, a veteran of the enterprise software space who has spent the last three decades at growth-stage technology companies in operations and board roles. Currently a Venture Partner at New Enterprise Associates, she has held leadership roles at Salesforce, Intuit and Oracle Corporation, where she began her career. Koplow-McAdams brings her expertise in growth strategy, marketing and business development to PanCAN. She has been a member of PanCAN's board of directors since 2016 and serves in honor of her father who died from pancreatic cancer in 2012, less than two years after his diagnosis.
Karen Young is now vice chair of PanCAN's board of directors, after serving as a board member since 2018. She brings 23 years of professional and strategic development experience to the distinguished role. Young became impassioned about accelerating progress in pancreatic cancer after losing both her father and her aunt to the disease. She has a background in life sciences, currently serving as PwC's U.S. Pharmaceutical and Life Sciences Leader. In this role, she leads more than 3,000 professionals in delivering PwC's advisory, tax and assurance services and will lend her leadership and strategic development experience to PanCAN.
"We are so lucky to have two strong and strategic female executives serving as key leaders on PanCAN's board of directors," said Julie Fleshman, JD, MBA, president and CEO of PanCAN. "They will help PanCAN navigate to our next level of growth as we strive to reach new, ambitious goals and dramatically improve patient outcomes."
In addition to the changes in board leadership, Dennis Cronin and Nancy Stagliano, Ph.D. are joining PanCAN's board of directors as new members.
Cronin is a 10-year pancreatic cancer survivor, having previously served as a member of PanCAN's Survivor Council for four years. He is currently Senior Vice President Treasury Service and Chief Risk Officer at Highmark Health, a Pittsburgh-based national health and wellness organization and the second largest integrated delivery and financing system in America.
Dr. Stagliano is an accomplished serial biotechnology entrepreneur, past CEO and current Executive Chair of Neuron23, a venture-backed company discovering and developing therapeutics for genetically driven neurodegenerative diseases such as Parkinson's disease. In addition, Dr. Stagliano serves on numerous private and public company biotechnology boards. Stagliano is passionate about supporting PanCAN after losing her mother to pancreatic cancer.
"Nancy's incredible expertise in the biotechnology field and Dennis' background in risk management provide additional expertise to an extremely talented group of board members," Fleshman said. "I am grateful to all of our board members for their incredible support and the advice they provide to the organization."
Previous chair Jeanne Ruesch joined PanCAN's board of directors in 2011. She was appointed chair in 2016. During her tenure, PanCAN experienced incredible growth as an organization, raising $13 million in 2011 to nearly $40 million in 2020. Ruesch came to PanCAN with a strong background in governance and philanthropy having founded and served as chair of the Ruesch Family Foundation with her late husband, Otto, who passed from pancreatic cancer in Oct. 2004. Prior to her role with the foundation, Ruesch served as the Executive Vice President and Chief Operating Officer of Ruesch International, an international financial services company.
"Jeanne is a phenomenal leader and the organization experienced transformational change under her leadership," said Fleshman. "Her partnership has supported us through the implementation of innovative research and clinical initiatives as well as incredible fundraising growth. I will be forever grateful to Jeanne for her powerful impact on changing outcomes for patients."