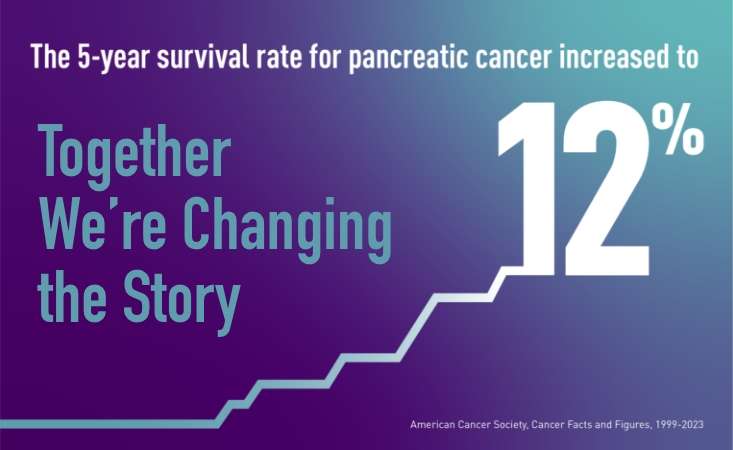 Increased Research Funding for Early Detection and Better Treatment Options Has Contributed To Improved Survival Rates — But More Must Be Done, According to Pancreatic Cancer Action Network
LOS ANGELES, Calif. – (Jan. 12, 2023) – American Cancer Society's (ACS) Cancer Facts & Figures 2023 report, released today, shows that the five-year survival rate for pancreatic cancer has reached a new all-time high of 12%, an increase of one percentage point from last year. This is the first time since 2017 that the survival rate has increased two consecutive years, a promising upward trend that points to continued progress in the fight against this tough disease.
While this increase of five percentage points over the last decade signifies important progress, the ACS Facts & Figures report also reveals an estimated 64,050 Americans will be diagnosed with pancreatic cancer in 2023, an increase of nearly 3% over 2022. And pancreatic cancer remains the third-leading cause of cancer-related deaths and is on track to become the second leading cause of cancer-related death by 2030.
Since its founding in 1999, the Pancreatic Cancer Action Network (PanCAN) has taken a comprehensive approach to attack the world's toughest cancer on all fronts – including research, clinical initiatives, patient services and grassroots advocacy – in order to improve patient outcomes and increase overall survival.
"For a disease as difficult as pancreatic cancer, an annual increase of one percentage point is an important and encouraging milestone that shows we're headed in the right direction and our comprehensive approach is working," said Julie Fleshman, JD, MBA, PanCAN's president and CEO. "But 12% is still the lowest five-year survival rate of all major cancers so we need to build on this momentum by continuing to fund research to find an early detection strategy and better treatment options for pancreatic cancer patients."
Historically, the survival rate for pancreatic cancer has been low. With no standard early detection method and often only vague symptoms, the disease is typically diagnosed too late once it has already spread. At this point, surgery is no longer a possibility and there are currently limited chemotherapy treatment options.
PanCAN has set an ambitious goal to see the five-year survival rate increase to 20% by 2030.
PanCAN leads the way in accelerating progress for this disease by funding leading-edge research that is getting us closer to new discoveries. In the past two decades, PanCAN has invested $174 million in groundbreaking research – with $25 million invested this past year alone. The overall research investment includes funding more than 200 grants cumulatively to scientists across the country and large-scale research initiatives such as PanCAN's Precision Promise℠ clinical trial, which seeks to accelerate the approval of new treatment options for pancreatic cancer patients and PanCAN's Early Detection Initiative, with a goal of developing a strategy to diagnose pancreatic cancer early when surgery is still possible.
"It's an exciting time for PanCAN and the field of pancreatic cancer research as a whole," said Lynn Matrisian, PhD, MBA, PanCAN's chief science officer. "We have a robust research community passionate about improving the lives of patients with pancreatic cancer. And their work is leading to real progress."
Treatment advances are also made possible by patients participating in clinical trials. PanCAN strongly recommends clinical trials at diagnosis and during every treatment decision – throughout January, which is Pancreatic Cancer Clinical Trials Awareness Month – and year-round. Patients are encouraged to contact PanCAN Patient Services for a free personalized clinical trials search or explore options online through PanCAN's Clinical Trial Finder offering access to the most up-to-date and comprehensive pancreatic cancer clinical trials database in the United States. In addition to clinical trial searches, PanCAN Patient Services provides free, personalized patient support for patients and their families.
For more information about the Pancreatic Cancer Action Network and its urgent mission to save lives, visit pancan.org or follow PanCAN on Twitter, Instagram and Facebook.
About the Pancreatic Cancer Action Network
The Pancreatic Cancer Action Network (PanCAN) leads the way in accelerating critical progress for pancreatic cancer patients. PanCAN takes bold action by funding life-saving research, providing personalized patient services and creating a community of supporters and volunteers who will stop at nothing to create a world in which all pancreatic cancer patients will thrive.