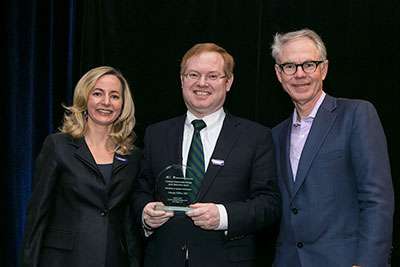 Pancreatic Cancer Pathway Identified; Discovery May Broach New Era of Effective Immunotherapies for the Deadliest Major Cancer
Pancreatic Cancer Action Network Grantee Is Lead Author of Nature Medicine Study
MANHATTAN BEACH, Calif. – (April 10, 2017) Pancreatic Cancer Action Network (PanCAN) grantee
George Miller, MD, and his research team at NYU Langone Medical Center, discovered a novel and potentially targetable way that pancreatic cancer cells hide themselves from the immune system. The findings, published today in the journal Nature Medicine, have the potential to broach a new era of effective immunotherapies for pancreatic cancer.
"Though valuable research has been done in the area of pancreatic cancer immunotherapy, patients haven't yet experienced significant clinical benefits," said Lynn Matrisian, PhD, MBA, chief science officer at the Pancreatic Cancer Action Network. "Our hope is that this novel research discovery can be quickly translated and evaluated in the clinical setting, with an ultimate goal of improving patient outcomes."
According to NYU, researchers involved in this study uncovered a critical pathway by which pancreatic cancer cells turn off the immune system charged with attacking them. In addition, scientists found that targeting this pathway could enable efficacy for checkpoint-based immunotherapies, which have failed so far in clinical trials in pancreatic cancer.
The NYU research team believes that these findings will introduce a new type of strategy leading to effective immunotherapies in pancreatic cancer, and they hope to bring new drugs targeting these pathways to the clinic soon.
Pancreatic cancer remains one of the nation's deadliest. However, in the past 15 years, significant progress has been made, including a growing and vibrant research community and increased federal and private funding. And, 2017 marks the third straight year that the five-year survival rate has increased, moving from 6 percent in 2014 to now 9 percent, which represents over 1,500 patients whose lives may have been extended.
Miller, who serves as head of the Cancer Immunology Program at Perlmutter and vice chair for research in the Department of Surgery at NYU Langone, is a 2014 PanCAN grantee and member of the organization's Community for Progress.
"The support of the Pancreatic Cancer Action Network, including the community of research, awareness, and support it fosters, were absolutely invaluable in conducting this research," said Miller. "The relationship with PanCAN is vital to the work of our lab, and the research community they've built inspires us to do more."
Learn how to support critical research that can improve patient outcomes at pancan.org. Read more about the novel research study out of NYU Langone.