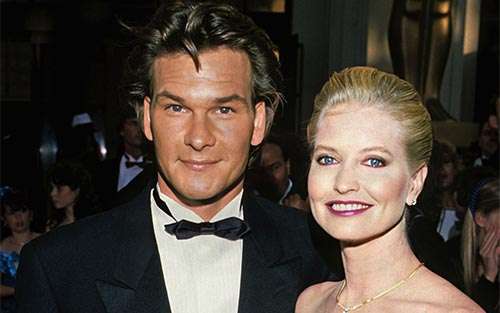 Property from the Estate of Patrick Swayze Auction Will Benefit the Pancreatic Cancer Action Network
Late Actor's Legacy Lives on to Fight the Nation's Toughest Cancer
MANHATTAN BEACH, Calif. – (April 13, 2017) The Pancreatic Cancer Action Network (PanCAN), the organization whose trailblazing work is accelerating the pace of progress for the nation's toughest cancer, will benefit from the Property from the Estate of Patrick Swayze auction being held on April 28, 2017 at Julien's Auction in Los Angeles. The auction will feature many iconic pieces, ranging from the leather jacket worn in the 1987 classic film "Dirty Dancing" and the silk maroon shirt the actor wore in the movie "Ghost."
Lisa Niemi Swayze is honoring her late husband's legacy by donating a portion of the proceeds to PanCAN to improve outcomes for pancreatic cancer patients. Patrick Swayze died from the disease in 2009 at the age of 57, just 20 months after diagnosis.
"Patrick was beloved by so many people, all over the world," said Julie Fleshman, JD, MBA, president and CEO of the Pancreatic Cancer Action Network. "His public battle with pancreatic cancer created a national conversation and inspired people to take action against the disease. We are thankful for Lisa's continued support of our mission to double survival by 2020."
Pancreatic cancer is one of the world's deadliest cancers with a five-year survival rate of just nine percent in this country. In 2016, pancreatic cancer surpassed breast cancer to become the third leading cause of cancer-related death in the U.S. It is estimated that more than 53,000 Americans will die from the disease this year.
"While it is difficult for me to let many of these items go, what has made it so positive is that I am not only sharing Patrick's amazing life with the world, but helping to provide hope in the battle against pancreatic cancer – the battle that Patrick, himself, fought so hard to win," Swayze said. "It is my honor to participate in celebrating Patrick's incredible life in this way."
Julien's Auctions will offer hundreds of Swayze's personal memorabilia items including the actor's DeLorean automobile (Estimate: $30,000-$50,000). Other notable auction items include a custom-built surfboard from the actor's role in "Point Break" (Estimate: $4,000-$6,000), a BMI Award won for "She's Like the Wind" from the "Dirty Dancing" soundtrack (Estimate: $1,000-$2,000) and the original script from a "Saturday Night Live" appearance (Estimate: $600-$800).
To register for the live auction, please visit JuliensLive.com.
To donate or learn more about the Pancreatic Cancer Action Network, please visit pancan.org and watch the organization's PSA. Follow PanCAN on Twitter, Facebook and Instagram.