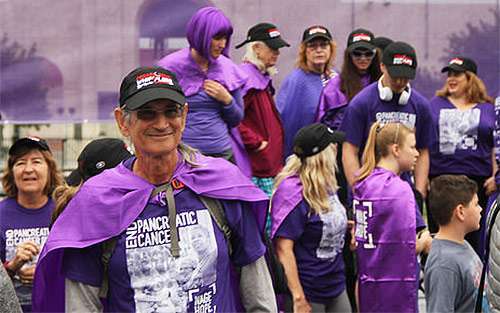 Pancreatic Cancer Action Network Invites All To Join PurpleStride Los Angeles, The Walk To End Pancreatic Cancer
Event aims to raise over $600,000 to help improve outcomes for patients
Los Angeles – (April 20, 2017) – The Pancreatic Cancer Action Network's Los Angeles Affiliate invites all interested to join PurpleStride Los Angeles, the walk to end pancreatic cancer, on Saturday, May 6, at Exposition Park.
PurpleStride Los Angeles will be hosted by television personality and host on FOX Business, Lisa "Kennedy" Montgomery and will feature a performance by Radio Disney star Calista Quinn.
Pancreatic cancer remains the nation's deadliest major cancer with a five-year survival rate of just nine percent. The Pancreatic Cancer Action Network (PanCAN) has an urgent mission to improve outcomes for patients currently battling the disease and to double pancreatic cancer survival by 2020.
Each year, more than 80,000 people in cities across the U.S. participate in PurpleStride. Funds raised through this signature event support the organization's key initiatives, including Precision Promise, Know Your TumorSM and the Patient Registry.
Julie Fleshman, JD, MBA, the President and CEO of the Pancreatic Cancer Action Network, lost her father to the disease in 1999 and has since made it her passion to change the course of pancreatic cancer.
"The Pancreatic Cancer Action Network funds research and other critical programs and services for patients and their families," said Fleshman. "PurpleStride provides the opportunity to raise funds that will support these efforts, helping to change outcomes for patients facing the disease today and those who will face it tomorrow."
Confirmed attendees include "Better Call Saul" and "American Horror Story" actress Liana Mendoza, TV host and sports broadcaster Lindsay McCormick and New Orleans Saints linebacker James Anderson.
Los Angeles PurpleStride is supported by national presenting sponsor Celgene; national gold sponsor AbbVie; regional gold sponsor Halozyme, Inc.; gold sponsors Cedars-Sinai and Kathryn Naficy Pancreatic Foundation; and gold media sponsors CBS2/KCAL9 and KSWD-The Sound.
To register, donate or learn more about PurpleStride Los Angeles, please visit www.purplestride.org/losangeles. For more on PurpleStride and the Pancreatic Cancer Action Network, watch this PurpleStride PSA and the organization's PSA.
# # #
About the Pancreatic Cancer Action Network
The Pancreatic Cancer Action Network (PanCAN) is accelerating the pace of research progress for one of the world's deadliest cancers. With an urgent mission to improve outcomes for pancreatic cancer patients and double survival by 2020, the organization, founded in 1999, executes a bold and comprehensive strategy to Wage Hope through research, patient services, advocacy and community engagement. The organization's visionary goals, world-class programs and services, extensive grassroots network, patient-focused outcomes and advisory board of scientific and medical leaders, provide the critical backdrop to help pancreatic cancer patients today and create transformational change for all patients in the future.