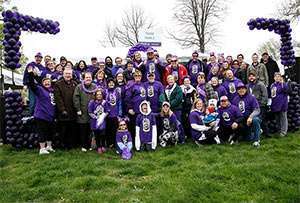 PurpleStride Chicago to Raise Funds, Advance Research for Nation's Deadliest Major Cancer
PurpleStride is the walk to end pancreatic cancer and supports the Pancreatic Cancer Action Network
CHICAGO – (April 4, 2017) – The Pancreatic Cancer Action Network's Chicago Affiliate invites the community to join PurpleStride Chicago, the walk to end pancreatic cancer, on Saturday, April 29, at Soldier Field.
Frank De Seno, spokesperson for the Chicago Affiliate, understands the devastating effects that pancreatic cancer has on both patients and their loved ones.
De Seno lost his oldest brother to pancreatic cancer 10 years ago, just one month after he was diagnosed. Then, four years after his brother's death, De Seno's wife, Linda, was diagnosed with the same cancer. She passed away after a three-month battle at the age of 52.
"I joined the Pancreatic Cancer Action Network in memory of my brother and my late wife," De Seno said. "I will not stop until we find a cure for pancreatic cancer, and that is why PurpleStride is so important to me. The funds raised through this event will advance research, and that research will end this disease."
Pancreatic cancer remains the nation's deadliest major cancer, with a five-year survival of just 9 percent. The Pancreatic Cancer Action Network (PanCAN) has an urgent mission to improve outcomes for patients currently battling the disease and to double pancreatic cancer survival by 2020.
Each year, more than 80,000 people in cities across the U.S. Wage Hope at PurpleStride, the walk to end pancreatic cancer. Funds raised through this signature event support the organization's key initiatives, including Precision Promise, Know Your TumorSM and the Patient Registry.
PurpleStride Chicago is hosted by FOX 32's "Good Day Chicago" co-anchor Corey McPherrin, and includes kid-friendly activities including a purple play zone. The Chicago event is supported by national presenting sponsor Celgene; national gold sponsor AbbVie; gold sponsor Have a Skate with Bob Foundation; gold media sponsor Fox 32; silver sponsor Carstens; and silver media sponsor WQNA-FM.
To register, donate or learn more about PurpleStride Chicago, please visit www.purplestride.org/chicago. For more on PurpleStride and the Pancreatic Cancer Action Network, watch the PurpleStride PSA and the organization's PSA.