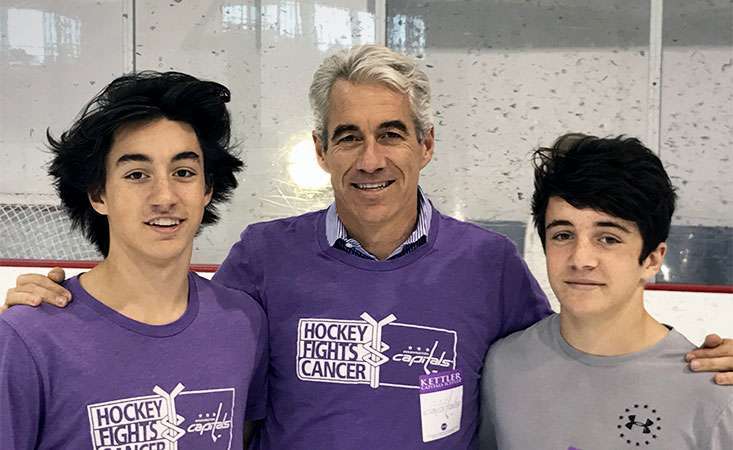 Peter Cashion Joins the Pancreatic Cancer Action Network Board of Directors
MANHATTAN BEACH, Calif. – (Dec. 12, 2017) The Pancreatic Cancer Action Network (PanCAN) is proud to announce that Peter Cashion, MBA, has been elected to its Board of Directors. In his new leadership role in the fight against the world's toughest cancer, Cashion brings over 20 years' experience with the International Finance Corporation as a chief investment officer and equity head.
Cashion's late wife, Andra Tamburro, was diagnosed with pancreatic cancer in January 2013 and died from the disease in September of that same year. Cashion resides in Washington, D.C., where he lives with his two sons. He has been an avid volunteer and fundraiser for PurpleStride, the walk to end pancreatic cancer, serving as a team captain. Over the last five years Cashion has raised more than $180,000.
"My hope in joining the PanCAN Board of Directors is to ensure that no one has to experience the loss that my family and I did," said Cashion. "I want to use my voice so that people can see that we can fight back against this disease in a positive and productive way."
Cashion received his bachelor's degree from the University of Western Ontario and received his Master of Business Administration (MBA) from Queens University, also in Canada.
"Peter's leadership and professional experience, coupled with his passion to fight this disease, bring tremendous value to our Board of Directors," said Julie Fleshman, JD, MBA, president and CEO of PanCAN. "Peter's expertise strengthens our organization, and we couldn't be more pleased to welcome him into this role."
The Pancreatic Cancer Action Network has an urgent goal to improve outcomes for patients battling the disease today and double survival by 2020. This work is supported by critical initiatives, including Precision PromiseSM, Know Your Tumor® and the Patient Registry.
Support the Pancreatic Cancer Action Network's urgent goal to double survival by 2020. Follow the Pancreatic Cancer Action Network on Twitter, Instagram and Facebook.