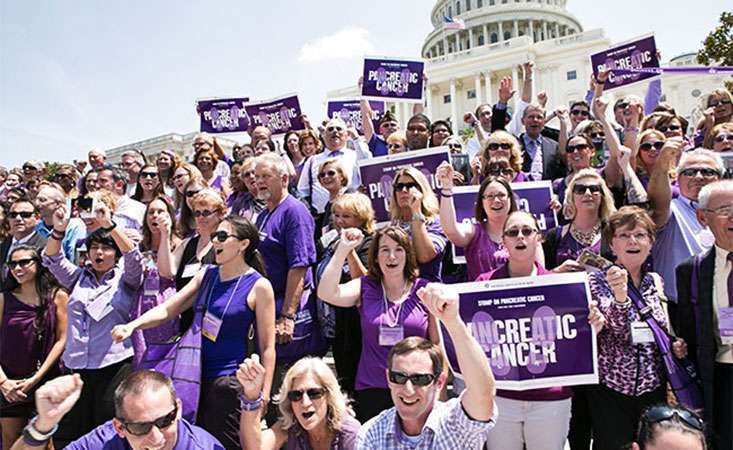 The Pancreatic Cancer Action Network Commends Congress For Passage Of 21st Century Cures Act
Critical Legislation Provides New Hope to Pancreatic Cancer Patients
MANHATTAN BEACH, Calif. – (Dec. 7, 2016) – The Pancreatic Cancer Action Network (PanCAN) and thousands of the organization's volunteers and advocates applaud Congress for its bipartisan work to pass the 21st Century Cures Act to provide critical funding for the Cancer Moonshot initiative.
The passage of the 21st Century Cures Act provides a boost to cancer research funding by authorizing $1.8 billion over the next seven years to directly support the initiatives of the Cancer Moonshot. This funding is meant to be allocated on top of funding provided to the National Institutes of Health (NIH) and National Cancer Institute (NCI) through the regular appropriations process.
"The funding that will be available as a result of the 21st Century Cures Act for the NIH offers new hope to all cancer patients," said Megan Gordon Don, vice president of Government Affairs and Advocacy at the Pancreatic Cancer Action Network. "We applaud Senators Lamar Alexander, Patty Murray and Representatives Fred Upton and Diana DeGette for their tireless leadership to ensure that the final bill includes authorization of funding for the Cancer Moonshot initiative."
Much of the Cancer Moonshot's focus, including immunotherapy and molecular profiling, align with the Pancreatic Cancer Action Network's key initiatives, such as Precision Promise and Know Your TumorSM. Both programs rely on precision medicine to help patients and their medical team make informed, personalized treatment decisions based on the biology of their tumor.
"The 21st Century Cures Act will help ensure that this important work on immunotherapy, personalized medicine and other vital research opportunities will move forward quickly to benefit patients," added Gordon Don. "We urge President Obama to enact the legislation without delay and urge Congress to ensure that the authorized funds are included in the FY 2017 Continuing Resolution."
Pancreatic cancer is the deadliest major cancer in the United States with a five-year survival of only 8 percent. The disease is the third leading cause of cancer death in the U.S. and anticipated to become the second by 2020.
Take action against pancreatic cancer by learning more at pancan.org.
Follow the Pancreatic Cancer Action Network on the Latest News blog, Twitter, Instagram and Facebook.
# # #
About the Pancreatic Cancer Action Network
The Pancreatic Cancer Action Network (PanCAN) is the global leader accelerating the pace of research progress for one of the world's deadliest cancers. With an urgent mission to improve outcomes for pancreatic cancer patients and double survival by 2020, the organization, founded in 1999, executes a bold and comprehensive strategy to Wage Hope through research, patient services, advocacy and community engagement. The organization's visionary goals, world-class programs and services, extensive grassroots network, patient-focused outcomes and advisory board of scientific and medical leaders, provide the critical backdrop to help pancreatic cancer patients today and create transformational change for all patients in the future.
MEDIA INQUIRIES ONLY CONTACT:
Cara Martinez
Senior Manager, Public Relations
Pancreatic Cancer Action Network
Direct: 310-706-3357
Email: cmartinez@pancan.org
ALL OTHER INQUIRIES, PLEASE CALL THE PANCREATIC CANCER ACTION NETWORK AT 877- 272-6226 OR EMAIL INFO@PANCAN.ORG.Revolutionary Clinical Trial Initiative Focuses On Precision Medicine, Collaboration And Data Sharing To Transform Outcomes For All Pancreatic Cancer Patients