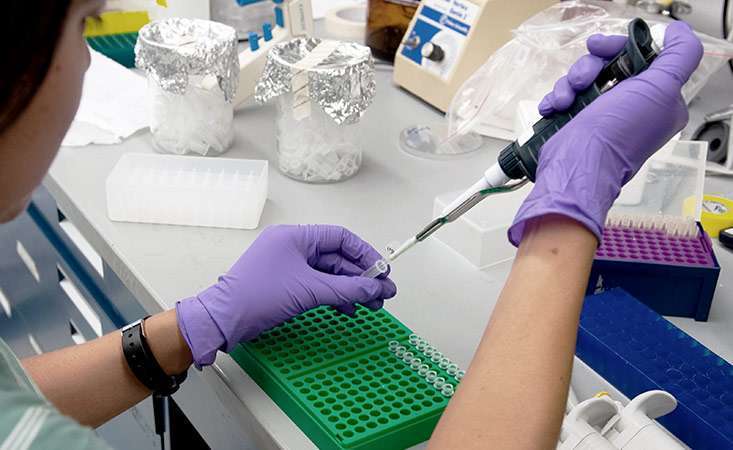 pancreatic cancer researchers receive PRESTIGIOUS grants to tackle deadliest major cancer
MANHATTAN BEACH, Calif. – (June 30, 2016) By the year 2020, pancreatic cancer is expected to move from the third to the second leading cause of cancer-related death in the United States. The disease is the deadliest major cancer with a five-year survival rate of just 8 percent.
To tackle this troubling trend, the Pancreatic Cancer Action Network, in conjunction with the generous support of several donors, has awarded more than $7.1 million through its competitive Research Grants Program in 2016. From 2003 to 2016, the organization has invested more than $35 million in research grants, representing 142 grants to 55 institutions around the U.S.
"Thanks to the contributions of committed donors, our organization continues to develop a pipeline of researchers and projects that strengthen the pancreatic cancer scientific and medical communities," said Julie Fleshman, JD, MBA, president and CEO of the Pancreatic Cancer Action Network. "These promising research projects are essential to moving us closer to our goal of doubling pancreatic cancer survival by 2020."
This year's 19 research grants include a $2 million Research Acceleration Network-2 Grant (RAN-2)  to support clinical research that will benefit patients in the immediate future, and is extremely milestone and timeline driven.
The 2016 RAN-2 grant is supported by a $1 million gift from The Henry and Marilyn Taub Foundation and is named in memory of Shirley Sadoff, who passed away from pancreatic cancer in 2000. Sadoff's sister,
Marilyn Taub, cofounded The Henry and Marilyn Taub Foundation with her late husband, Henry Taub, in 1967. Henry Taub was the founder of Automatic Payrolls, now known as ADP.
Grant recipients David Linehan, MD, of the University of Rochester, and co-principal investigator Brian Wolpin, MD, MPH, of the Dana-Farber Cancer Institute, will use the funds to support a large, multi-center phase 2 clinical trial testing an immunotherapeutic approach for patients facing metastatic pancreatic cancer.
To help bridge the funding gap between basic research and clinical discoveries, the Pancreatic Cancer Action Network Research Grants Program awarded eight Translational Research Grants this year to support projects with established scientific findings that require additional pre-clinical testing before beginning clinical trials for patients.
The 2016 Translational Research Grants recipients include:
Principal investigator Pratip Bhattacharya, PhD, and co-principal Investigator Florencia McAllister, both of MD Anderson Cancer Center
"Early Detection of PanIN by Hyperpolarized Metabolic MR Imaging"
Principal investigator Erica Carpenter, PhD, and co-principal investigator Ben Stanger, MD, PhD, both of the University of Pennsylvania
"Real-time Monitoring of Exosomes as a Biomarker for Pancreatic Cancer"
Principal investigator Claudia Gravekamp, PhD, of Albert Einstein College of Medicine and co-principal investigator Jennifer Chuy, MD, of Montefiore Medical Center
"Improving Cancer Immunotherapy and Gemcitabine Sensitivity through Listeria"
Principal investigator Philip Greenberg, MD, of Fred Hutchinson Cancer Research Center
"Targeting PDA with T-Cells Engineered to Express a Mesothelin-Specific TCR"
The Abby Sobrato -- Pancreatic Cancer Action Network -- Translational Research Grant is supported by Supported by John M. Sobrato and Family
Principal investigator William Hawkins, MD, of the Washington University in St. Louis
"Targeting Tumor Infiltrating Myeloid Cells to Enhance Immunotherapy"
Principal investigator David Iannitti, MD, of the Carolinas Medical Center, and co-principal investigator Rafael Davalos, PhD, of the Virginia Polytechnic Institute and State University
"Developing Next Generation IRE to Treat Pancreatic Cancer"
Principal investigator Ann Leen, PhD, and co-principal investigator William Edward Fisher, MD, of Baylor College of Medicine
"T-Cell Therapy for Pancreatic Cancer"
Principal investigator Aatur Singhi, MD, PhD, of the University of Pittsburgh Medical Center
"Diagnostic Markers of Malignant Transformation in Mucinous Pancreatic Cysts"
To encourage young investigators to enter the field, the Pancreatic Cancer Action Network also awarded two fellowships and two travel scholarships to postdoctoral scientists earlier this year through a grant partnership with the National Cancer Institute Frederick National Laboratory for Cancer Research.
Likewise, the Pancreatic Cancer Action Network collaborated with the American Association for Cancer Research (AACR) this year to fund eight grants to outstanding early-career scientists to support novel research in the field of pancreatic cancer.
Learn more about the Pancreatic Cancer Action Network by visiting pancan.org. Follow the Pancreatic Cancer Action Network on Twitter, Instagram and Facebook.
# # #
About the Pancreatic Cancer Action Network
The Pancreatic Cancer Action Network is the national organization creating hope in a comprehensive way through research, patient support, community outreach and advocacy for a cure. The organization is leading the way to increase survival for people diagnosed with this devastating disease through a bold initiative — The Vision of Progress: Double Pancreatic Cancer Survival by 2020. To continue to accelerate progress, a goal to raise $200 million by 2020 is also in place. Together, we can Wage Hope and rewrite the future of pancreatic cancer.
MEDIA INQUIRIES ONLY CONTACT:
Cara Martinez
Senior Manager, Public Relations
Pancreatic Cancer Action Network
Direct: 310-706-3357
Email: cmartinez@pancan.org

ALL OTHER INQUIRIES, PLEASE CALL THE PANCREATIC CANCER ACTION NETWORK AT 877- 272-6226 OR EMAIL INFO@PANCAN.ORG.