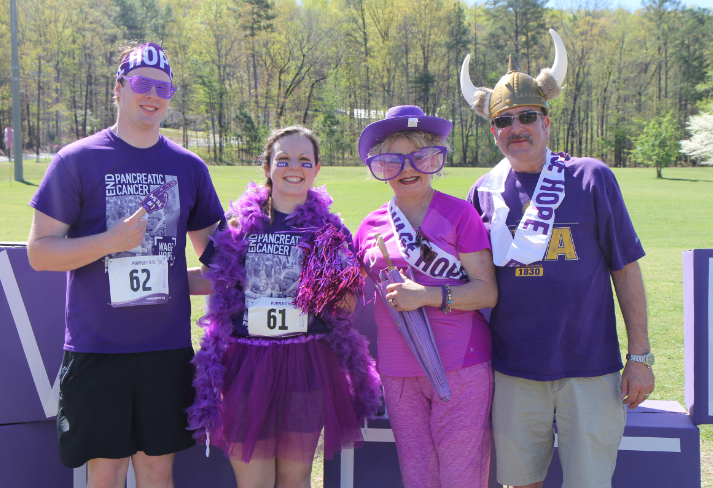 PurpleStride Birmingham Unites Community in Fight Against Pancreatic Cancer
Funds raised at PurpleStride support vital research and clinical initiatives of the Pancreatic Cancer Action Network  
BIRMINGHAM, Ala. (March 15, 2017) – – ­ The Birmingham Affiliate of the Pancreatic Cancer Action Network (PanCAN) invites the community to change the course of pancreatic cancer and improve patient outcomes by attending PurpleStride Birmingham 2017, presented by UAB Medicine on Saturday, April 1, at Veteran's Park.
The Pancreatic Cancer Action Network is the go-to organization supporting pancreatic cancer patient services and research. Its urgent mission is to improve outcomes for patients battling the disease today and to double pancreatic cancer survival by 2020.
PurpleStride events support this critical work and the organization's key initiatives, including Precision Promise, Know Your Tumor and the Patient Registry. The Pancreatic Cancer Action Network has raised over $87 million for the cause through community events from 2008 to 2016.
Pancreatic cancer is the deadliest major cancer, with a five-year survival of just 9 percent. However, there is hope. PurpleStride Birmingham aims to improve patient outcomes by raising $118,000.
Vicki Macon, chair of the PurpleStride Birmingham event, understands the personal loss behind the statistics. Macon lost her mother, Ruth Macon Nicks, just three months after her diagnosis.
"PurpleStride is about creating hope while making a meaningful difference," Macon said. "Together, we can fund and advance research, raise awareness and improve the lives of pancreatic cancer patients. Together, we stride for everyone affected by this disease."
PurpleStride special guests include emcee Javanté Ingram, co-host of ABC 33/40's "Talk of Alabama," and Mayor William A. Bell, Sr. Other supporters include national presenting sponsor Celgene; national gold sponsor AbbVie; gold media sponsor ABC 33/40; silver sponsor Blue Cross and Blue Shield of Alabama; and bronze sponsor Altec.
To register for PurpleStride Birmingham, visit www.purplestride.org/birmingham. For more on PurpleStride and the Pancreatic Cancer Action Network, watch the PurpleStride PSA  and the organization's PSA.