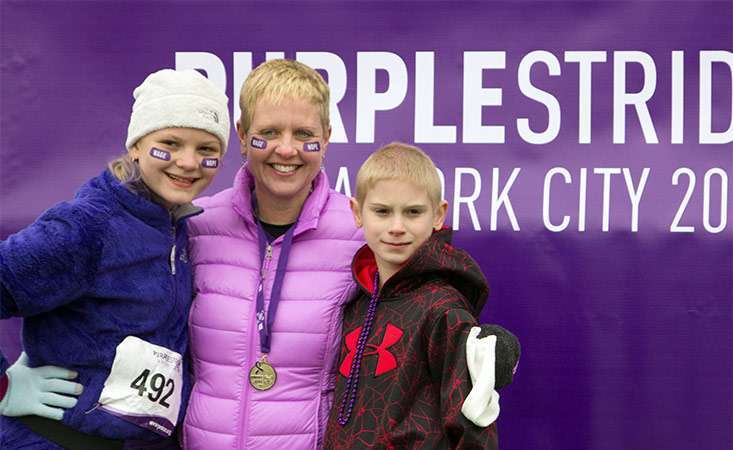 PurpleStride New York City to Raise Funds, Awareness for Deadliest Major Cancer
Funds raised at PurpleStride support vital research and clinical initiatives of the Pancreatic Cancer Action Network
NEW YORK CITY – (March 15, 2017) – The Pancreatic Cancer Action Network's New York Affiliate invites the community to rewrite the history of pancreatic cancer and improve patient outcomes by attending PurpleStride New York City on Saturday, April 8, at Prospect Park – Nethermead East.
In addition to local supporters and survivors, PurpleStride New York City will welcome "Good Morning America" weekend news anchor Ron Claiborne and former "Survivor" cast member and season 24 finalist Katrina Edorsson.
Pancreatic cancer is the nation's deadliest major cancer, with a five-year survival of just 9 percent. As the go-to organization supporting pancreatic cancer patient services and research, the Pancreatic Cancer Action Network (PanCAN) has an urgent mission to improve outcomes for patients battling the disease today and to double pancreatic cancer survival by 2020.
PurpleStride is a national movement that is transforming the face of pancreatic cancer. Each year, more than 80,000 people in cities across the U.S. participate in PurpleStride 5K walk/run events to raise funds for the organization's key initiatives, including Precision Promise, Know Your TumorSM and the Patient Registry. PurpleStride has raised more than $76 million since 2008.
Lin Sun, spokesperson for the New York City PanCAN Affiliate, knows first-hand how important these resources are for families who have been touched by this disease.
"I found the Pancreatic Cancer Action Network online after my mother was diagnosed with the disease, and it turned out be more helpful and meaningful than I ever could have imagined," Sun said. "I was able to connect with a PanCAN Patient Services Case Manager who provided a wealth of knowledge on clinical trials, survivor contacts and physician information. Through this, my family found a renowned pancreatic cancer oncologist and my mother received top-notch care for 8 months until her passing in February of 2014."
The New York City event is supported by national presenting sponsor Celgene; national gold sponsor AbbVie; gold media sponsors WABC-TV and WFAN 660 AM/WFAN-FM 101.9; silver sponsors Maureen Data Systems and Perlmutter Cancer Center at NYU Langone Medical Center; and bronze sponsor Pancreas Health Program, Winthrop-University Hospital.
To register, donate or learn more about PurpleStride New York City, please visit www.purplestride.org/newyork. For more on PurpleStride and the Pancreatic Cancer Action Network, watch the PurpleStride PSA and the organization's PSA.